Texas Rangers' Jamie Reed Joins Taylor Hooton Foundation's Board of Directors
Long-Time Athletic Trainer Brings Invaluable Experiences to the Foundation's Advocacy Against the Use of Appearance and Performance Enhancing Substances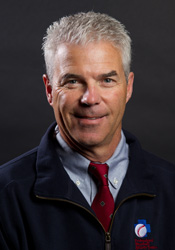 McKinney, Texas (Thursday, January 9, 2020)
 – The Taylor Hooton Foundation announced today that 
Jamie Reed (ATC) 
of the Texas Rangers, a recognized expert and veteran in the world of professional sports medicine, has joined its Board of Directors. The Taylor Hooton Foundation is widely acknowledged as the leader in the advocacy against the use of appearance and performance enhancing substances by the youth of America.
"We are very pleased to have Jamie join our distinguished Board of Directors and look forward to working with him to help further our message across the US, Canada and Latin America," said Taylor Hooton Foundation President Donald Hooton Jr. "For years, Jamie has been an outspoken advocate of athletes achieving their goals the right way, through proper diet, exercise and training.  As a long-time leader of the Professional Baseball Athletic Trainers Society (PBATS), Jamie has been an active partner of THF as we deliver education programs to kids across America.  As we expand our messaging to include providing kids with the tools they need to compete fairly and safely, Jamie will be a huge asset."
Reed, the Texas Rangers' Senior Director, Medical Operations & Sport Science since 2014, served as the team's head athletic trainer from 2003-13. From 1997 to 2002, he was head athletic trainer for the Tampa Bay Devil Rays. He also was the assistant athletic trainer for the Baltimore Orioles from 1989 to 1996. While with the Orioles, Reed shared "Major League Baseball Athletic Training Staff of the Year" honors in 1995 with (Orioles head athletic trainer) Richie Bancells.
Prior to his major-league appointment in 1989, Reed spent seven seasons in the Orioles' minor-league system with teams in Bluefield (Rookie League), Hagerstown (Class A), Charlotte (Class AA) and Rochester (Class AAA). He is a former American League assistant athletic trainer representative on the PBATS Executive Committee.  In 2001, he was selected by his peers as the new president of PBATS, and was re-elected to the position in 2003 and again in 2005. He also served on the Board as Immediate Past President until 2013.
A native of Annapolis, MD, Reed served as athletic trainer for the U.S. Naval Academy's football and basketball teams from 1982 to 1984, and again in 1988.  Reed co-chairs the Red Romo Scholarship that provides the expenses to pay for an extra athletic trainer for the Naval Academy Sports Program.
"My passion the past 10 years has been protecting young athletes," Reed said. "I have very much enjoyed sharing my experience in MLB with the parents and coaches of youth athletes and speak to the dangers of sports specialization and the benefits of proper conditioning, nutrition, and most importantly, keeping it fun for the kids. The Taylor Hooton Foundation has a very similar calling and I am thrilled to be closely associated with their group."
To date, the Taylor Hooton Foundation has spoken to and educated well over one-million people across the U.S., Canada and Latin America thanks to its many supporters including primary sponsor, Major League Baseball. Additionally, the THF has put together an Advisory Board that consists of more than 40 active MLB players, including at least one representative from each of the 30 teams.  These men have proudly stepped forward to be role models to help the THF enlighten people to the truth about appearance and performance enhancing substances.
CONTACT: 
Rick Cerrone / Rick Cerrone Communications
(914) 715-5491 / 
rick@rickcerrone.com