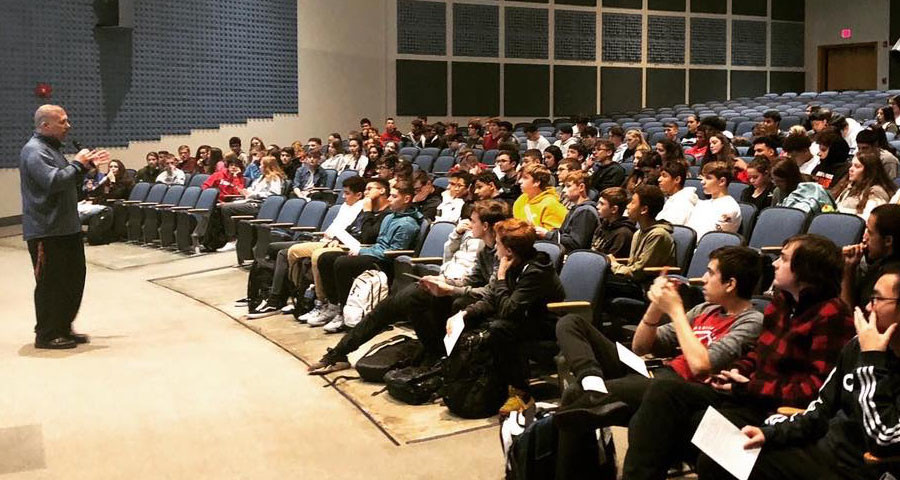 ALL ME® Assembly Programs
Research has shown 85% of high school students have never been educated on the dangers of using Appearance and Performance Enhancing Substances. The Taylor Hooton Foundation wants to change that. We believe talking to our youth and adult influencers is the first step in creating a generation of young people who choose to live without the use of Appearance and Performance Enhancing Substances.
We've brought our ALL ME® assembly programs to students, athletes and adults across the U.S., Canada and Latin America. The program was developed alongside the medical community, athletic trainers, university experts and young people to deliver a strong and entertaining message that is easy to understand and filled with integrity.
What topics
do we cover?
We offer two unique programs for you to choose from depending on your audience.
Appearance and Performance Enhancing Substances Assembly Topics:
What are Appearance and Performance Enhancing Substances (dietary supplements, HGH, and anabolic steroids)?
Navigating dietary supplements
Energy drinks/shots, creatine, pre-workout supplements, protein supplements
Manufacturing standards
Black market steroids and where they come from
Why kids are using, who is using and how many?
Body image and self-esteem
Why steroids are banned from competition
The potential dangers of anabolic steroids
Nutrition and Dietary Supplement Safety Assembly Topics:
What are dietary supplements?
What are the risks?
Do you need supplements?
How do you find clean products?
The importance of nutrition for sustainable health
Nutrition as the solution to fuel proper performance
Challenges and influences to a proper diet
Nutritional habits for peak performance
How to put together a nutrition plan
Universities We've Presented to:
University of Georgia
Louisiana State University
University of Southern California
Stanford University
University of Florida
Northwestern University
University of Miami
Vanderbilt University
University of Utah
Brown University
University of Kansas
Oregon State University
Purdue University
Arizona State University
Texas Christian University
University of Louisville
University of Iowa
University of Louisville
Indiana University
And many more…
Testimonials
I just wanted to take a moment to thank you for bringing your very important message to our students this morning. It was apparent, based on their attention to you, that they really heard what you were saying. What a wonderful tribute to Taylor that you all impact the lives of our students with his story. I have no doubt you changed a life today.
–HS Principal
The Foundation has found a way to meet kids where they stand. They use an informal platform to talk to student about some very real, very scary and very accessible products by simply interacting with them in relatable ways and saying "yep, I can relate to you. I did it once. And I'm here today to teach you about ways you can avoid the mistakes I made. I'm here today to protect you". Through anecdotal evidence, evidence based science, and simply showing our kids the ways in which the supplement industry works to profit from their insecurities, the Taylor Hooton Foundation has started a healthy and informed conversation amongst our educators, kids, coaches, and staff with regards to better options for health and wellness.
–The Noble and Greenough School
I wanted to reach out and thank you for the fantastic presentation you delivered to our student athletes on the topic of Supplements and Performance Enhancing Substances. We found the presentation to be information and eye-opening, but more importantly down to earth and easy for our student athletes to follow along with. I would absolutely recommend the Taylor Hooton Foundation and as our leadership advisor, who sat in on the presentation, put it "This may have saved a life tonight.
– Purdue University
FAQ
Who is this for and who should schedule one?
---
We've designed our assemblies for all audiences:
Middle school, high school and university students
Parents and Adult Influencers
School nurses, superintendents, principles, guidance counselors and coaches
Physicians
Athletic Trainers
Law enforcement personnel
Strength Coaches
Etc…
Where can I host one?
---
High Schools
Colleges/Universities
Athletic Teams
Conferences
Community Groups and Associations
What can I expect?
---
45-60 minute captivating multi-media presentation
Delivered by a trained THF Staff Speaker
Includes compelling facts, impactful message, pictures and videos
Each program is custom built for the age and size of the audience
Simply schedule the date and provide the A/V equipment, and the THF staff will do the rest!
Do you offer any CEU credits?
---
Yes, we can provide Continuing Education Units. Please inquire to see if your group qualifies.
*Our Appearance and Performance Enhancing Substances Assembly has been approved for Evidence Based Practice CEU's by the National Athletic Training Association's Board of Commission.
How much does an assembly cost?
---