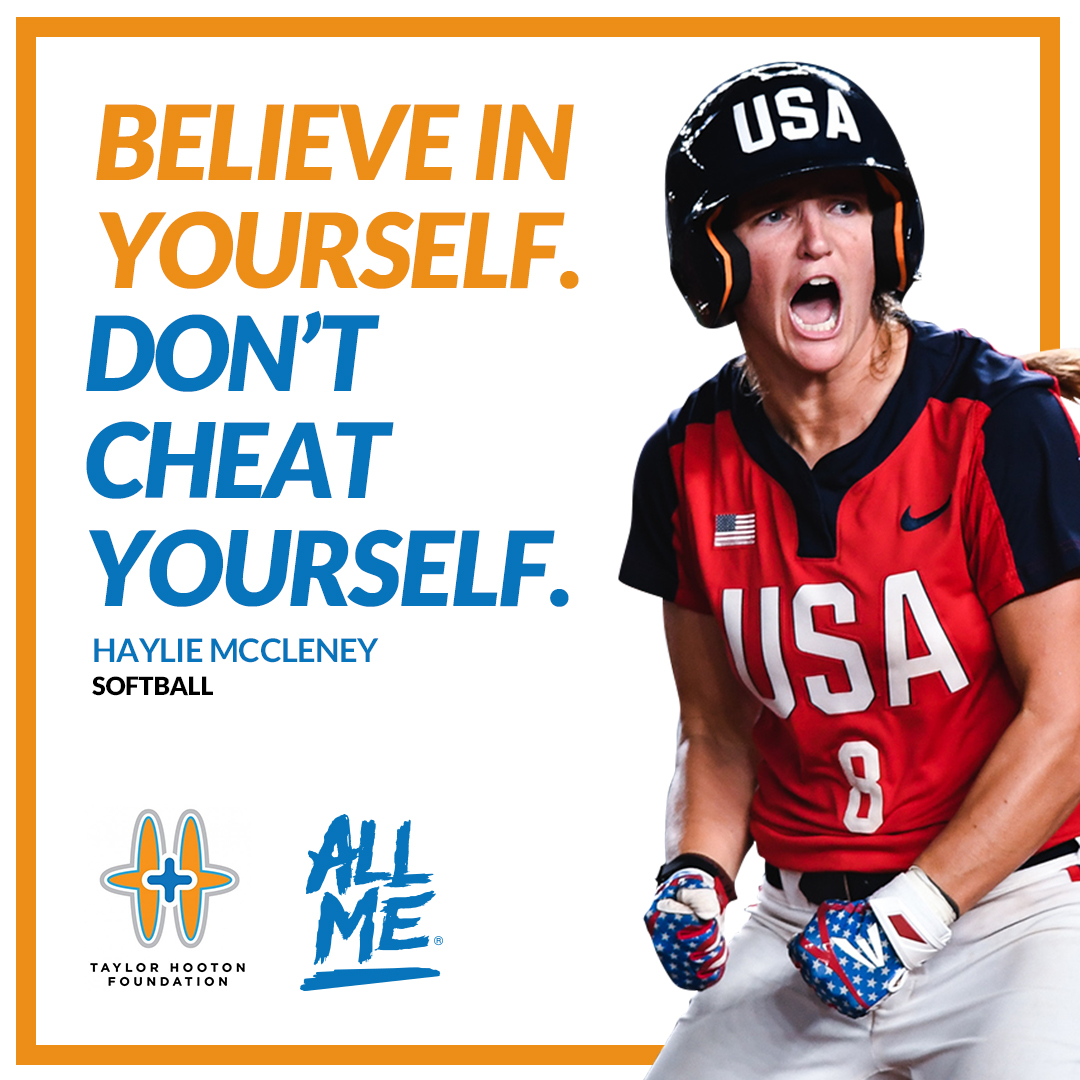 ELITE PROFESSIONAL SOFTBALL PLAYER HAYLIE McCLENEY JOINS TAYLOR HOOTON FOUNDATION'S ALL ME® ADVISORY BOARD
FOR IMMEDIATE RELEASE
ELITE PROFESSIONAL SOFTBALL PLAYER HAYLIE McCLENEY
JOINS TAYLOR HOOTON FOUNDATION'S ALL ME® ADVISORY BOARD
All American Softball Champion Steps Up to Help Educate Young People About    
the Dangers of Appearance and Performance Enhancing Substances
Frisco, Texas (Tuesday, August 27th, 2020)
– The Taylor Hooton Foundation announced today that 2020 Team USA Summer Olympic Softball player
Haylie McCleney
has joined its ALL ME Advisory Board. The Taylor Hooton Foundation is widely acknowledged as the leader in the advocacy against appearance and performance enhancing substance use by the youth of America. "We are honored and excited to have Haylie join our ALL ME Advisory Board," said Taylor Hooton Foundation President Donald Hooton, Jr. "It is so important that our young people have positive female role models to look up to, especially when it comes to the topic of competing in sports and in life by doing things the right way and without the use of performance-enhancing drugs. This incredible woman has reached the pinnacle of her sport without the use of these substances and will no doubt inspire young ladies to follow in her amazing footsteps. Great role models and leaders combined with our education campaign are the most effective weapons we have in this national epidemic."
Haylie McCleney
, a left-handed-hitting outfielder, is a four-time All-American for the University of Alabama who earned a Second Team and three First Team All-SEC Honors.  Since 2013, she has been a member of Team USA and was selected for the 2020 Summer Olympics. "I am excited to join the Taylor Hooton Foundation's ALL ME Advisory Board," McCleney said. "When I'm on and off the field, I want my body to be able to hold up through all of the travel, training, and game to perform at my optimal level. As a female role model I want other young women to know that when they see me in public, when I train or when I step on the field I'm doing it ALL ME, without the use of drugs. I look forward to amplifying this message about competing the right way to young athletes." The "ALL ME" Advisory Board was formed in 2014 with eight active Major League Baseball players and, since 2015, has included at least one player from each of the 30 MLB teams.
—-
About The Taylor Hooton Foundation
The Taylor Hooton Foundation is a 501c3 non-profit organization that is dedicated to educating North America's young people about the dangers of anabolic steroids and other appearance and performance enhancing substances.   The friends and family of Taylor Hooton formed the Foundation in 2004 after his untimely death at 17 years old following his use of anabolic steroids. For more information about the Taylor Hooton Foundation and its efforts, please visit
www.taylorhooton.org
and
www.allmeleague.com
.
CONTACT:  
Rick Cerrone / Rick Cerrone Communications (914) 715-5491 /
rick@rickcerrone.com