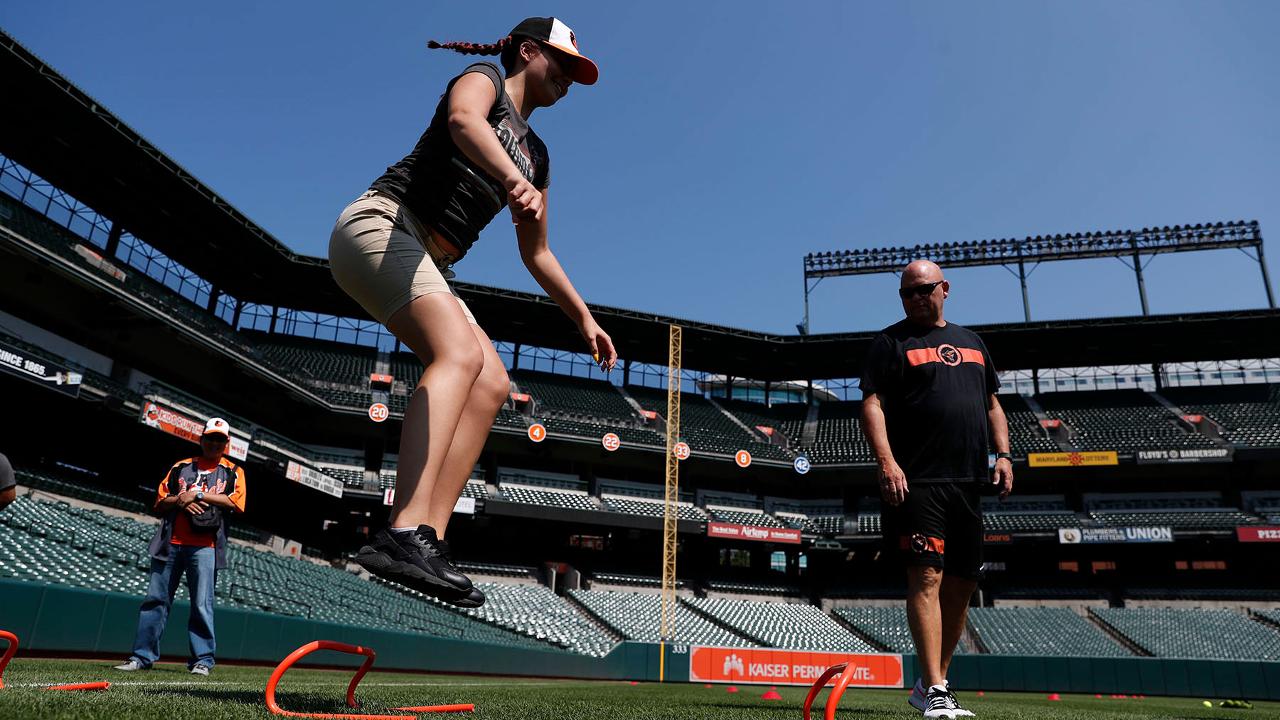 Orioles host PLAY campaign event
BALTIMORE — As about 70 kids took their seats near the third-base line at Oriole Park at Camden Yards on Tuesday morning, Donald Hooton, Jr. stood in front of them wearing a blue T-shirt that read "ALL ME. PED FREE." The president of the Taylor Hooton Foundation, which educates children about the dangers of anabolic steroids, warned the youngsters about the dangers of those banned substances before the kids hit the field for a workout.
That was one of the many lessons taught during the "PLAY" (Promoting a Lifetime of Activity for Youth) campaign event, which the Orioles hosted Tuesday. O's athletic trainers and others advised children on performance-enhancing drugs and healthy diets while they participated in drills on the field.
"Kids nowadays, they are so obsessed with being on their phones and video games and staying inside, it's important for them to understand that they do need to get outside and exercise," Hooton said. "It's a great classroom to teach these kids. One, to learn about the dangers of appearance and performance-enhancing substances, but to go out and be active on a big league field, for some of these kids, it's a once-in-a-lifetime opportunity." The "PLAY" campaign began in 2004 through the Professional Baseball Athletic Trainers Society to raise awareness about children's health issues and the obesity epidemic in the U.S. The program travels to all 30 ballparks once a year, encouraging kids to make healthy lifestyle decisions and remain active. The Taylor Hooton Foundation joined "PLAY" to inform participants about the dangers of banned substances. One player from each Major League team serves on the MLB Advisory Board for the foundation, with 
J.J. Hardy
 as the Orioles' representative. "It's extremely shocking when you start to look at the statistics, and you find out how young these children are when they start doing things like steroids, too many energy drinks, other stuff like that," said Orioles head athletic trainer Richie Bancells. "They're in grade school or middle school some of them. They do the anabolic steroids because they want to look good, more than anything else. It's extremely dangerous. They need to hear what those dangers are."
To involve children with disabilities, the Ruderman Family Foundation also joined "PLAY." The organization advocates for full inclusion of people with disabilities throughout the world. "PLAY" became the first program in professional sports to integrate children with disabilities in 2014, per a statement. Several children from the National Down Syndrome Society participated in Tuesday's event. It marked one of 10 "PLAY" clinics this season that included children with disabilities, according to PLAY's Rick Cerrone. "The idea is to make them part of the other kids so that you don't really see their disabilities, you see their abilities," Bancells said. "They had a great time. I think we had more fun with them than they did." The stations the kids rotated between included diet suggestions, stretching, learning how to sprint properly, agility drills and catching a tennis ball while running. After playing for more than an hour, the children shuffled back into the bleachers — this time in the shade on a humid afternoon — to listen to Orioles reliever 
Donnie Hart
 explain how important exercise is. The left-hander didn't have a TV in his Texas home, instead spending his childhood days on baseball fields. Despite technology becoming more prevalent since then, Hart hopes the younger generation follows his tips.
http://m.mlb.com/news/article/245767516/orioles-host-play-campaign-event-for-kids/