Do more to rid sports of performance-enhancing drugs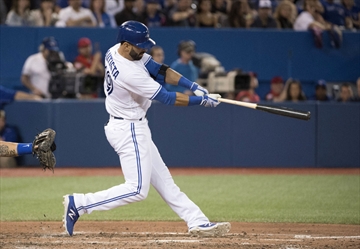 Waterloo Region Record
The suspension of the Toronto Blue Jays' Chris Colabello last month by Major League Baseball for the presence of a banned substance sends a strong signal that cheating has consequences. It's a possible career-ending development for Colabello, whose Cinderella rise to the Jays last season has been met with a shoe that no longer fits.
We know too well in Waterloo Region about severe consequences associated with performance-enhancing drugs through the example of the Waterloo Warriors football team, whose entire 2010 season was suspended by the university's administration after eight anti-doping rule violations — another unambiguous signal that performance-enhancing drugs have no place in sport at any level. But are these actions enough to make a difference?
Skeptics — and there are many — will suggest that we throw in the towel and accept performance-enhancing drugs use as a part of the game. Some leading bioethicists will go so far as to say that performance-enhancing drugs should be regulated in professional sport as a way to level the playing field. This, however, has many practical and ethical holes in it.
The risks taken today by professional athletes using these banned substances would surely be eclipsed by athletes seeking out even more lethal performance-enhancing cocktails under a regulated system. There will always be a subset of athletes seeking a competitive edge, so where does this end? The misguided argument to regulate performance-enhancing drugs in professional sport would exacerbate a higher order of cheating, risk-taking, and sends the wrong message to our kids.
Although performance-enhancing drugs are banned in sport, there is already an epidemic in their use among youth in North America. Almost two million high school and middle school students in the United States admit to using steroids — enough kids to fill every Major League Baseball stadium. Canadian statistics are harder to come by, but a 2013 survey of more than 700 students in Waterloo Region revealed that one out of four students reported knowing someone in their school who is using steroids.
Anabolic steroids are dangerous drugs, particularly for youth. They can damage the heart, liver, kidneys, and the mind. They cost Donald Hooton the life of his baseball-playing 17-year-old son Taylor — far removed from the bright lights of a major league ballpark. In the wake of this tragedy, the Taylor Hooton Foundation was established to educate people about the dangers of appearance- and performance-enhancing drugs.
There is no quick fix to this problem and it would be naïve to think there is. Even the most hardened leaders of the antidoping movement acknowledge this is a battle that may never be won.
Recently, in an interview with The Guardian, director general David Howman of the World Anti-Doping Agency commented that drugs in sport (among other issues noted including organized crime) are "getting too big for sport to manage." But the World Anti-Doping Agency and other leading professional sports are doubling down through more aggressive policies, education, and testing to address the problem.
A case in point is the Canadian Football League, which last month announced a new drug-testing policy with more teeth including formal recognition of sanctions from other leagues including Canadian Interuniversity Sport. Under the old policy, Canadian Interuniversity Sport players who tested positive for a banned substance remained free to play in the Canadian Football League without delay or sanctions from the CFL.
The nascent CFL policy has already seen its first case in Bishop's University player Jonathan Fortin, who tested positive on March 9 for the banned anabolic steroid Methandienone. Fortin was declared ineligible for the 2016 CFL draft, pending appeal, among other provisions under the policy. Who knows, this early case may send a signal to other Canadian Interuniversity Sport players that the path to the CFL is no longer unencumbered if you test positive for steroids in the collegiate ranks.
Tougher policies and the threat of career-altering suspensions are by design punitive, but they need to be complemented with education — and not just when players reach the major leagues. Kids and adolescents need to be educated about the risks of banned substances when they are playing in the sandlot.
Major League Baseball understands the importance of educating kids about these substances and has invested in supporting grassroots educational programs including the "ALL ME LEAGUE." This program, featuring many high-profile major-leaguers including Blue Jays' slugger Jose Bautista, sends a message to kids that these pros have achieved their success through hard work and sacrifice, not shortcuts including performance-enhancing drugs.
Other programs closer to home are starting to make a difference too, including "Succeed Clean," where university athletes — few of whom will ever make it to the pros — speak to high schoolers across Ontario about the clean path to athletic success. Born in Waterloo, this groundbreaking program has been shown to change attitudes — and hopefully behaviours — about performance-enhancing drug use. Time will tell, as will testing.
Bob Copeland is a senior vice-president at McLaren Global Sport Solutions, Toronto, and a member of the advisory board of the Taylor Hooton Foundation, Dallas, Texas. He is the former director of athletics at the University of Waterloo.