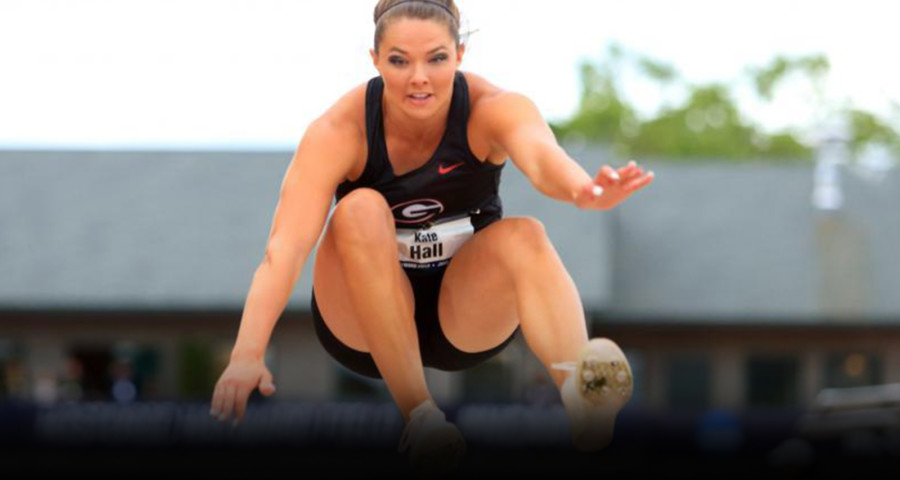 Athlete Profile
Team
NCAA Champion – Long Jump
Birthday
January 12, 1997
BIOGRAPHY
Kate Hall was born January 12, 1997 and lives in Casco, Maine. She was diagnosed with type 1 diabetes and celiac disease at ten years of age and immediately had to learn how to manage both diseases full time. After asking to give herself her very first shot of insulin, Kate decided to take this full time management head on and turn it into something positive.
Kate's work ethic in track and field stems from having to control her health from a very young age. Once she was in high school, she began to excel even more and accomplished her goal of making it to the Olympic Trials and setting the high school national record in the long jump. Here are some of the accolades she has accumulated thus far:
– 26 time Maine State Champion
– 3 time Maine Gatorade Athlete of the year
– 8 time High School All American in the sprints and long jump – 2 time High School National Champion in the Long Jump
– Junior World Leader in 2015 & 2016 (long jump)
– United States High School Record Holder in the Long Jump (jumped 22′ – 5″ breaking a 39 yr. old record)
– American Junior record holder in the long jump
– 2016 Olympic Trials finalist
– South East Conference Long Jump Champion
– 4-time NCAA Division 1 All-American (sprints & long jump)
– Ranked #5 in the 60 meter dash among all Americans in 2018 – 2017 NCAA Division 1 National Outdoor Long Jump Champion
– 2018 NCAA Division 1 National Indoor Long Jump Champion
Aside from her track accomplishments, Kate has also made a significant impact in the type one diabetes world. She has spoken at a Juvenile Diabetes Research Foundation event, a diabetes training camp for other athletes, and in front of Congress. The highlight was when Kate testified in front of Congress, explaining in detail what it means to be an elite athlete with type one diabetes. Since then, Kate has given countless other speeches to athletes all around Maine with the hopes of inspiring them to chase after their dreams without letting anything stop them. Kate recently has started writing a blog to give others some insight on how she overcame her personal challenges which include diabetes, celiac disease, and being an elite athlete in general. Kate's upcoming plans include jumping and sprinting professionally with the ultimate goals of qualifying for the 2019 World Championships and the 2020 Tokyo Olympics. As a part of this journey, Kate wants to place an emphasis on inspiring other athletes and children to become the best they can be and to turn their challenges into learning experiences that can help them become successful.