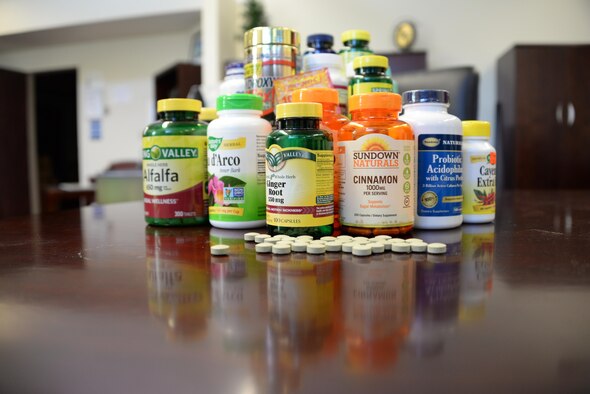 TRAVIS AIR FORCE BASE, Calif. – Would you take dietary supplements to run faster, build larger muscles and trim your waistline? Would the cost be worth that price?
Two Army soldiers formerly assigned in Europe learned the price they paid was not worth it. Both have been hospitalized with liver failure after using a German-made supplement purchased online, said Lt. Col. Heidi Clark, 60th Diagnostics and Therapeutics Squadron at Travis Air Force Base, California.
The product was advertised as a "natural hormone-enhancing muscle builder," but it contained controlled substances regulated by the Drug Enforcement Administration.
"Some people think that as long as a supplement doesn't contain steroids, it's OK to take. What they don't realize is that many supplements contain substances that become steroids in the body. Some contain undeclared steroids. That's what happened in this particular situation," said Clark, a registered dietitian and the Nutritional Medicine Flight commander at David Grant USAF Medical Center.
According to Clark, some manufacturers add chemotherapy drugs or other "hidden drugs" to their products, which could show up "positive" in a urinalysis test. Supplements also can have strong effects in the body, she said.
"Some can increase the risk of bleeding. There is also the potential for adverse reactions when supplements are combined with prescription drugs," said Clark.
About 60 to 70 percent of active duty members and 44 to 53 percent of Department of Defense civilians use at least one dietary supplement per week, according to a 2015 study on self-reported side effects in the armed forces population. About 22 percent of military members reported taking three or more supplements per week while 20 percent of civilians reported taking five or more per week.
The study, published by the National Center for Biotechnology and the National Institute of Health, found that people who used one to two supplements per week were 1.5 times more likely to report abnormal heartbeats. It also found that people using three to four supplements were three times more likely to report abnormal heartbeats than people who didn't use supplements.
"Other reported side effects common in users were stomach pain, dizziness, tremors, numbness and tingling," said Clark. "Those side effects appeared particularly often in those using combination supplements – those with several ingredients."
People take supplements for various reasons but usually because they want to see quick results, said Clark. "They want to get fit, lose weight or improve sexual performance."
Supplement sales in the United States in 2014 were estimated in excess of $36 billion, including more than $14 billion for supplements containing vitamins and minerals, according to the Department of Health and Human Services.
"There's an assumption that if a supplement is sold in a store, somebody is making sure it's safe. That's not the case," said Clark.
Supplements are not regulated by the U.S. Food and Drug Administration so they can be sold without being proven safe or effective, she said.
The FDA requires supplement manufacturers to report serious adverse health events, but there is no requirement to report minor adverse issues. In fact, the FDA receives only one in 100 of these reports, according to the Government Accounting Agency.
Although the FDA "will pull a supplement if enough people report side effects or if the drug is not effective," people don't often make reports, said Clark.
"They think there's a benefit from taking it (a supplement) so they don't want to give that up," she said.
Clark urges people who use supplements to consult the Operation Supplement Safety website at: http://opss.org.
OPSS is a Department of Defense initiative to educate the military workforce, family members, leaders and health care providers about dietary supplements and how to choose them wisely.
"You can report adverse events on the website, which could alert the FDA that a product may not be safe," said Clark.
The website also provides a list of "red flag" and high-risk supplements and hosts an "Ask the Expert" forum to address specific concerns. There also is a list of supplement ingredients banned by the FDA.
Additionally, the website provides a link to the Natural Medicines Comprehensive Database. This is normally a subscription-only service, but is free to members using a government computer, said Clark.
People who use supplements should only buy brands that have been verified by a third party such as the United Pharmacopeial Convention, or are manufactured by large, well-known companies. Although this does not guarantee that a supplement will be safe or effective, "it does validate manufacturing practices, purity or quality," she said.
http://www.travis.af.mil/News/Features/Display/Article/1137087/supplement-may-cost-people-more-than-money/
Social tagging:
banned substances
>
Don Hooton
>
doping
>
drugs
>
education
>
supplements
>
Taylor Hooton Foundation