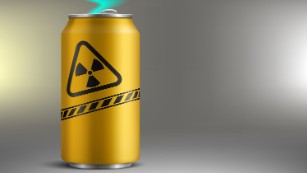 (CNN) Energy drinks may promise a boost, but experts are increasingly concerned that their cocktails of ingredients could have unintended health risks.
The extent of these electrical changes — which signal the heart's chambers squeezing and relaxing — is "generally considered mild," according to study author Sachin Shah, a professor of pharmacy at the Thomas J. Long School of Pharmacy and Health Sciences at the University of the Pacific. However, people who take certain medications or have a specific type of heart condition could be at increased risk of a fatal arrhythmia, or irregular heartbeat, he added.
"Unlike drugs, supplements and consumer products do not necessarily get tested for safety," Shah said in an email.
The American Beverage Association stands by the safety of energy drinks, indicating that many of their ingredients are also found in common foods and have been rigorously studied for safety.
Still, the global energy drink market continues to grow. It was worth $39 billion in 2013 and is forecast to reach $61 billion by 2021.
So what exactly is inside these drinks, and how do they impact your body?
Over the years, concerned experts have been getting closer to answering those questions, said Dr. John Higgins, a sports cardiologist with McGovern Medical School at the University of Texas Health Science Center in Houston.
Higgins, who has led multiple studies on energy drinks and health impacts, agreed.
With the caffeine, sugar and stimulants, Higgins previously told CNN that more research is needed to determine how those ingredients could interact to cause negative health effects.
"They're sort of a black box. We really don't know a lot about them," Higgins said of energy drinks.
"People need to be aware of that," he said. "For certain groups, it could be potentially dangerous, like for those under 18, women who are pregnant, people who have a caffeine sensitivity, people who don't consume caffeine on a regular basis and people who are taking certain medications, like Adderall for attention deficit (disorder)."
Rachel Hicks, a spokeswoman for the American Beverage Association, previously issued a statement from the group that said many people around the world have safely consumed energy drinks for more than 25 years.
"Many of the ingredients in energy drinks, such as B vitamins and taurine, are found naturally in many foods," the statement said.
Here's a look at how certain parts of your body may be affected after guzzling more than the recommended amount of energy drink, according to experts.
After chugging an energy drink, you might notice your heart rate increase.
"The blood vessels in the heart during exercise have to get larger; they dilate and get larger so that more blood flow can get to the heart," he said.
Large amounts of caffeine, however, might affect not only your body, but also your brain.
"To give you an idea of products containing caffeine, Java Monster contains 100 milligrams per serving; 5 Hour Energy contains 200 milligrams per serving, and keep in mind that does not include amounts of other stimulants found in energy drinks that can enhance the effects of caffeine," said Sheri Zidenberg-Cherr, nutrition specialist and vice chairwoman in the department of nutrition at the University of California, Davis.
Now that energy drinks have grown in popularity, especially among adolescents, many health experts are concerned about the impacts they could have on young consumers.
"Healthy adults who choose to drink energy drinks should not exceed one can per day," the Mayo Clinic's Zeratsky said.
Some parents and children may not even be aware of the potential health risks associated with energy drinks due to the way they are marketed, Zidenberg-Cherr said.
"There is no regulation of the marketing of energy drinks targeted at young adults," she said.
Higgins, the Houston sports cardiologist, said that while shopping at a grocery store on a recent Saturday morning, he saw a woman with a 12-pack of Red Bull. Her son, who Higgins said appeared to be about 11 years old and who was wearing soccer gear, stood nearby.
They were waiting in line at a checkout counter.
"She was having a conversation, and the boy said, 'Oh, yeah, gee, our team will really do well today when we're having the Red Bull at the halftime.' And I was just thinking, wow, back in our day, we used to have oranges, bananas, water and juice, and they're doing energy drinks," Higgins said.
"That just sort of told me, the mom obviously didn't understand that these are not like oranges or bananas or even juices," he said. "These are a completely different beast, and that's part of the confusion that people have."
https://www.cnn.com/2019/05/29/health/energy-drinks-health-concerns-study-explainer/index.html
Social tagging:
cardiovascular
>
Don Hooton
>
doping
>
drugs
>
education
>
energy drinks
>
supplements
>
Taylor Hooton Foundation