Alex Rodriguez admits to using steroids
This time around, 
Alex Rodriguez
 should take a pass on the apology. We know that he is not sorry he used performance-enhancing drugs, again, and that he is only sorry he got caught using performance-enhancing drugs. Again. Remember what the disgraced 
New York Yankees
 slugger said on that spring training day in 2009 when he copped to using banned substances as a member of the 
Texas Rangers
, with the help of ol' Cousin Yuri, of course. "The only thing I ask from this group today and the American people," A-Rod told reporters then, "is to judge me from this day forward." The American people made their judgment on Rodriguez long before Tuesday's midterm elections, and long before the Miami Herald reported Wednesday that Rodriguez told the Drug Enforcement Administration in January he did indeed purchase testosterone creams and lozenges and human growth hormone from the baron of Biogenesis, Tony Bosch, and that Bosch had even drawn blood from him in the bathroom of a South Beach nightclub.
[+] Enlarge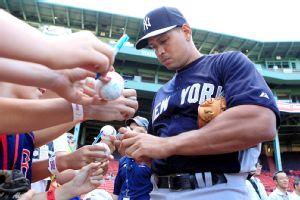 New Yorkers aren't usually opposed to giving second — or third — chances. And if A-Rod starts hitting homers again, he'll be largely forgiven.
Right where Rodriguez flushed the tattered remains of his credibility down the drain. In the summer of 2013, hours after Bud Selig hit him with a 211-game suspension that would be reduced to 162, Rodriguez stood at his locker following a road loss to the 
Chicago White Sox
 and said, "I just hope that there's a happy ending somewhere." He had no better chance of finding his happy ending in the Biogenesis case than he did of ever making his induction speech at the Hall of Fame. In the wake of the court-filing disclosure that Rodriguez paid Cousin Yuri, as in Sucart, nearly $1 million to remain silent about his time running drugs for him, the Herald story cited a DEA report detailing how A-Rod injected HGH into his stomach and, after being coached by Bosch, beat MLB's urine test while taking his potions and pills of choice. This is what Rodriguez said when an arbitrator reduced his suspension to the full season that was 2014: "The number of games sadly comes as no surprise, as the deck has been stacked against me from day one. This is one man's decision, that was not put before a fair and impartial jury, does not involve me having failed a single drug test, is at odds with the facts and is inconsistent with the terms of the Joint Drug Agreement and the Basic Agreement, and relies on testimony and documents that would never have been allowed in any court in the United States because they are false and wholly unreliable. "I have been clear that I did not use performance-enhancing drugs as alleged in the notice of discipline … and in order to prove it I will take this fight to federal court." Less than three weeks later, Rodriguez admitted to federal agents that he was a fraud.
 A-Rod's Good, Bad & Ugly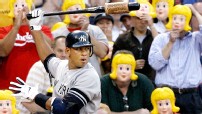 ESPNNewYork.com takes a look back at A-Rod's best — but mostly worst — moments as a Bronx Bummer Bomber.
So no matter what his overworked crisis counselors are telling him now, Rodriguez needs to skip the part of the recovery process that calls for yet another cathartic confession. Whether he ends up in a hotel ballroom in New York, or under a carnival tent in Tampa, or in a chair opposite Oprah, Rodriguez should just tell the truth, the whole truth, and nothing but. And what exactly is the truth? According to the evidence, Alex Rodriguez should say that he's been a cheat for most, if not all, of his big league career, that he used drugs because he knew so many others in the sport were doing the same and that he loved fame and fortune and, above all, the notion he could go down as the greatest player and most prolific home run hitter of all time. Rodriguez should also say nothing about his future intentions regarding steroids and back-room pharmacology. If asked to swear off PEDs for good, he should offer no comment. He should remember that his 2009 challenge to the American public and media went about as smoothly as the famous follow-me-around dare once made by a failed presidential challenger named Gary Hart. In fact, if he were being completely honest with himself and the fans, Rodriguez would admit that in an attempt to extend his career and earn the $61 million the Yankees owe him over the next three years, he might cross over to the dark side again if he can only find more discreet chemists and cousins. But nobody out there needs another apology. "It would seem very hollow at this point," Don Hooton, an anti-steroids advocate, told ESPNNewYork.com by phone. Hooton's son Taylor committed suicide in 2003 after using anabolic steroids, inspiring the father to start a foundation in his son's name. Don Hooton attended Rodriguez's 2009 news conference in Tampa, where A-Rod pledged to support his noble cause. Hooton estimated Wednesday that the Yankee star got involved in three or four dozen programs "with literally thousands of kids from Miami to New York" to speak on the importance of staying drug-free.
 A-Rod's Place In Pinstripes?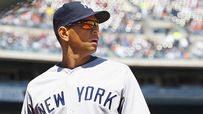 Alex Rodriguez is no stranger to controversy, but he's also one of the all-time Yankees. Where does he rank?  
Hooton's foundation officially ended its relationship with Rodriguez after the arbitrator notarized the core of the MLB suspension. "We've used the word disappointed a lot, but it moves to betrayal now," Hooton told ESPNNewYork.com. "Until this admission, we were just going on the same speculation everybody else was going on because Alex continued to deny he'd been using performance-enhancing drugs. If he's admitting it now, he's telling us he was using performance-enhancing drugs at the same time he was out with us talking to kids. Betrayal is a very appropriate word now." Rodriguez can say nothing to make that go away, so he shouldn't even bother trying. It is what it is, and he is what he is. There's no point in offering a counterpoint. But if he wants to win back some fans, hey, the 39-year-old Rodriguez has a clear path to redemption. The Yankees have missed the playoffs in consecutive seasons for the first time since the early '90s, and in case A-Rod missed it, 
Derek Jeter
 isn't around anymore to lead the charge back. New Yorkers are known to be pretty open-minded to second and third chances, especially when you're hitting the ball over the outfield wall. So carry a big stick next season, Alex, and speak very softly if someone asks you to express contrition over something you're not really sorry for. http://espn.go.com/new-york/mlb/story/_/id/11827107/new-york-yankees-alex-rodriguez-bother-apologizing-ped-use