Steroid use at epidemic levels among gay men?
The other day, I was showing a picture of a sexy, muscular guy on Grindr to a friend. My friend pointed out that the guy had gynecomastia (the development of abnormally large mammary glands in males), and was likely a user of steroids. I was surprised and shocked, but my friend told me that steroid use - especially among gay men - is fairly common. Even his roommate does steroids, he told me.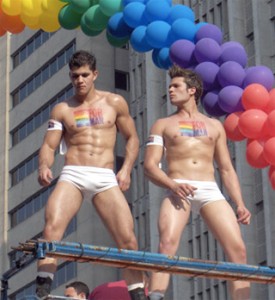 I was ignorantly unaware of what is seemingly an epidemic among gay men. In fact, a recent study revealed that 1 in 7 gay gym-going men admitted to steroid use. Some estimate that the actual number may be closer to 50%.
There is no no doubt that many people associate being gay with a certain gym and muscle culture. And while that gym culture doesn't define a community as diverse as the gay community, it certainly is present and pervasive. Gay muscle culture is often traced back to another epidemic: AIDS. Physicians often prescribed steroids to people living with AIDS as a way to increase muscle mass on their otherwise frail frames. Moreover, pumped-up bodies became a symbol of healthiness.
Today, muscle culture is alive and well - and many gay men feel intense pressure to obtain lean, muscular builds. Under such pressure, taking steroids can seem like an easier shortcut than hard work and exercise. And there's no doubt that steroids yield results. Unfortunately, steroids are plagued by tremendously dangerous and/or undesirable side-effects including:
Acne
Shrunken testicles - which leads to temporary (and possibly permanent) sterility
High blood pressure
High cholesterol
Liver malfunction
Enlarged prostate and prostate cancer
Balding
Aggression
Liver failure
Stunted growth
Weight problems
Neurological issues