Radomski goes into supplement business with Mass Arrival X-treme
Last week I told you about the infamous Victor Conte of Balco fame and his entry into the supplement business. Â This week, the story is about Kirk Radomski who is at the epicenter of the big MLB steroid scandal. Â Alledgely, he supplied over 300 MLB players with performance enhancing drugs back in the day. In addition to the story itself, this highlights the fact that the supplement industry is totally unregulated and felons who have been in trouble with performance enhancing drugs in the past have no problems walking right into the business. Don
Kirk Radomski stands impatiently next to his partner's black SUV, impervious to the breeze that blows through the parking lot of a Long Island factory on a cold and sunny afternoon. A seagull lands on the roof of the factory and squawks.
A man wearing a blue lab coat and a shower cap pushes a hand truck loaded with 249 boxes of dietary supplements out of the factory loading dock and toward the GMC Acadia. The next chapter in the life of Kirk Radomski - the man who supplied steroids and human growth hormone to dozens of major leaguers for 10 years - has begun.
"I want to see people lose weight," Radomski says as he and his partner, Steve Cohen, loaded boxes of "Mass Arrival X-treme," a supplement that boosts testosterone levels, into Cohen's vehicle. "I want to see people get bigger muscles. I want to see them live healthier lives."
Radomski is the former Mets clubhouse attendant who pleaded guilty in San Francisco federal court in 2007 to one count of distribution of anabolic steroids and one count of money laundering. He was the primary source for Sen. George Mitchell's explosive report on steroids and baseball, and he will be a key prosecution witness when former Yankee pitcher Roger Clemens goes on trial in April for allegedly lying to Congress. He has become synonymous with the Major League Baseball doping scandal that led to drug testing and congressional hearings.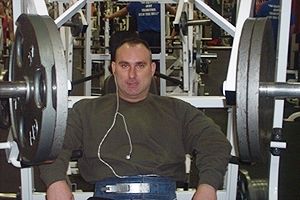 He also has a family to support and bills to pay, so after several years on the sidelines, the former trainer and nutrition consultant who helped his major league clients get into the best shape of their lives and earn millions of dollars is ready to get back into the fitness business. Radomski and his longtime friend Cohen are launching a line of dietary supplements, using formulas Radomski says he developed himself.
"I'm a convicted felon, but that didn't stop people from coming up to me and asking my advice about supplements," he says. "I really couldn't recommend a lot of products. There are a lot of companies out there that shouldn't be in business. They put illegal ingredients in their products.
"I have to do everything right," he adds. "With my background, everyone will be looking at me."
The partners say they hope new supplement company - EPSG (energy, performance, strength, growth) Labs - can provide a high-quality alternative to bottom-feeder companies that sell tainted supplements.
"You'll never look at one of our products and find something that is not supposed to be there," Cohen says
Radomski had spent much of his life in gyms, designing exercise regimens and diets for athletes. He also supplied them with steroids and growth hormone, and advised them on how to use performance-enhancing drugs effectively - at least until investigator Jeff Novitzky arrived at his Long Island home with a search warrant and a small army of federal agents in December 2005. Mayhem ensued.
"I needed to step back for a while," he says.
He opened up a car wash with a friend but his heart wasn't in it. He missed the fitness world.
Radomski sold his interest in the car wash and turned to Cohen, a longtime family friend and businessman. Cohen was the first person Radomski called after Novitzky and company came to the house; he introduced Radomski to John Reilly, the attorney who negotiated the plea agreement that kept him out of jail.
"I've known him since he was a little kid. He's a good person," Cohen says. "He knows what he is doing and that's why I'm going into business with him."
Radomski says he developed the formulas for EPSG Labs' first two products, the testosterone booster and a fat burner called "High Heat" through years of trial and error. He used to make supplements for the athletes and for his own personal use, he said, and says he perfected his formulas by tweaking ingredients and amounts until he found a winner.
"I sat down with guys and talked to them about what they needed," Radomski says. "I got real results with real people. It comes down to years of experience."
His products won't be for everyone - the testosterone booster includes DHEA, the legal steroid hormone produced by the adrenal gland that is banned by the NCAA, the NBA, NFL and World Anti-Doping Agency (although not by Major League Baseball). The label warns that it could trigger positive drug tests.
Radomski says there is a big demand for a product that builds muscle and boosts energy from aging men who are hoping to hang on to their youth. Using DHEA, Radomski adds, is just an example of his commitment to quality.
"DHEA is very expensive," he says. "But we want to use the right ingredients. I want to give people a quality product. I don't want to be a Fortune 500 company."
"Sure we do," Cohen says with a laugh.
Radomski laughs, too.
"But the biggest thrill to me will be when people come up to me and say, your product helped me lose weight, your product helped me build muscle, your product helped me get healthy," Radomski continues. "That's why I'm in this business."