MMA rife with steroid use
by:  Rick Bergeron Athletes will always look for ways to improve their game and outdo their opponents. Some seek out all-natural methods to soar to the top of the leader boards in their respective sports. Others skirt or violate the rules they signed up to abide by when they resort to using banned substances and controversial treatments like 
Testosterone Replacement Therapy
 and 
Human Growth Hormone
. While baseball and football remain the two most popular US sports plagued by the scourge of steroids and designer drugs, Mixed Martial Arts is a sport that only in recent years developed a massive, mainstream following in the United States.
MMA
is now facing many of the same problems other marquee sports suffered over the years due to the performance enhancing drugs issue. MMA is a vastly different sport from football or baseball, though. The specific goal is to try to take your opponent out so he can't play anymore. Outside of the
New Orleans Saints
and their controversial bounty program, baseball and football are much more peaceful games, where the emphasis is placed on scoring points. Many MMA leagues have legal bounty programs, awarding cash bonuses for knockouts or submissions. In other words, facing an opponent coming in with an unfair advantage can have much more serious consequences for a fighter in a cage. The leader of the MMA pack is Zuffa, LLC and their subsidiaries: The Ultimate Fighting Championship and Strikeforce. Zuffa's president is the vociferous
Dana White
-the same Dana White who constantly tells people he wants mixed martial arts to be as popular as the NFL someday. This is the company setting the standard for how athletes who "juice" are treated in MMA.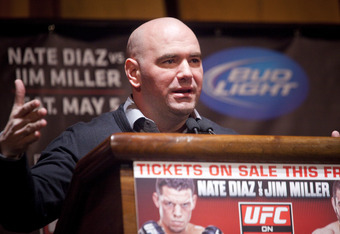 Zuffa President Dana White says he wants mixed martial arts to be as popular as the NFL someday. He may have to rethink his position on random testing for PEDs and TRT if he wants his dream to come true. Michael Nagle/Getty ImagesAccording to a 
Cage Potato timeline
, UFC fighters nailed for steroids, banned substances, or elevated testosterone levels since 2002 include Tim Sylvia, Josh Barnett, 
Nate Marquardt
, Kimo Leopold, Stephan Bonnar, Sean Sherk, Hermes Franca, Anthony Torres, Chris Leben, Vinicius Quieroz, Thiago Silva, Chael Sonnen, and Alistair Overeem. And those are only the UFC fighters who were caught due to their participation in an official UFC event. Other combatants who cycled in and out of the UFC and WEC over the years and  tested positive for banned substances while fighting in other leagues include: Vitor Belfort, Phil Baroni, Bill Mahood, Kit Cope, Dennis Hallman, Alexandre Nogueira, Edwin Dewees, Ken Shamrock, Cole Province, James Irvin, and Royce Gracie. The latest major league acquired by Zuffa also has issues with fighters resorting to banned substances. Violators who were busted at Strikeforce events or fought at least once for Strikeforce include: Antonio Silva, Adam Smith, Alexander Crispim, Ruben Villareal, Carina Damm, Cristiane "Cyborg" Santos, and Muhammad "King Mo" Lawal. This leaves Zuffa in a precarious position. There are 37 fighters on the Cage Potato list. Only five of them never fought in either the UFC or Strikeforce (Kirill Sidelnikov, Pawel Nastula, Johnnie Morton, Jorge Ortiz, and Jason Winthers). That's less than fifteen percent of the total number of perpetrators profiled. Also, the UFC is planning to fold the Strikeforce heavyweight division into their ranks once the finals of the heavyweight Grand Prix are complete. Daniel Cormier (9-0) faces one of the worst offenders of banned substance abuse in that May 19th event: Josh Barnett (31-5).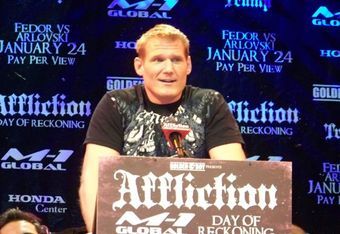 MMA heavyweight Josh Barnett is blamed for bringing down Affliction's whole business operation by failing a pre-fight drug test.Barnett is famous for testing positive for 
Drostanolone
 in July of 2009, just 11 days before a scheduled bout with
Fedor Emelianenko
at Affliction: Trilogy. Though there were other issues behind that organization's collapse, Barnett's positive test is considered by many experts to be the straw that broke Affliction's back. The league folded in the wake of having to cancel the entire Trilogy event. It would be bad enough if this was Barnett's first rodeo, but he is also the Cage Potato list's original offender. Barnett tested positive for 
Boldenone
, 
Nandrolone
, and 
Fluoxymesterone
 following a TKO win over "The Natural"
Randy Couture
at UFC 136 in 2002. Other fighters have admitted to using Testosterone Replacement Therapy without actually getting caught with any elevated testosterone levels. Recently, UFC Icon Quinton "Rampage" Jackson confessed to utilizing the treatment to recover from injury. Dan Henderson also used the technique in the past. Some fighters are able to get exemptions to use the treatment by claiming to suffer from a disability or disease that leaves them with naturally low testosterone levels. Others use the treatment between fights to supercharge a comeback after an injury, curtailing use long enough before fight time to avoid going in with elevated levels of the male hormone. It's no surprise that TRT is becoming more prevalent in MMA. Just look at the television ads these days touting Testosterone creams and 
supplemental pills
 for the average, everyday guy who wants to combat the awful feeling of getting older and slowing down. Like the plastic surgery industry, testosterone peddling is becoming a niche business for medical and health professionals. All the while, the jury is still out on 
whether or not TRT actually works
.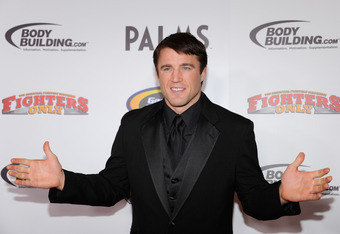 Chael Sonnen was beating Anderson Silva badly throughout most of their UFC 117 title fight he would later lose, but it turned out he had elevated levels of testosterone going into the bout. Ethan Miller/Getty ImagesStill, if 
Chael Sonnen's testosterone-fueled performance against 
Anderson Silva
proves anything, TRT can potentially work wonders for MMA fighters. 
The Alistair Overeem debacle and Mo Lawal's suspension and crude commentary on a member of the Nevada State Athletic Commission prompted Zuffa President Dana White to speak out about random drug testing and how expensive and impractical it would be
. If White really wants his league to compete with the NFL, he'll have to change his tune. Ben Askren, a Bellator fighter, criticized White for ruling out random screening, 
going as far as calling White a liar
. Even 
one of the major perpetrators behind the BALCO steroid scandal surrounding Barry Bonds
 believes random tests can become a reality in MMA. The reality is that White and the rest of the ownership group behind the UFC could be facing serious lawsuits in the future if they don't work harder to protect clean athletes. Though it may not be a given that a cheating fighter always has an advantage in a fight, the argument can be made that allowing fighters to continue juicing or loading up on Testosterone has a greater potential of putting a clean fighter at a serious disadvantage that could lead to serious injury. Testing before and after a fight is simply not sufficient to detect whether a particular fighter is really cheating by resorting to banned substances to get ready for a bout. Avoiding positive tests becomes a serious game played by athletes willing to take the risk of getting caught in order to take their power and strength to the next level.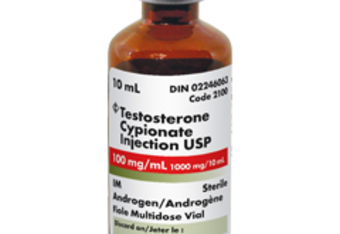 Testosterone therapy is becoming a booming business for medical and health professionals.The 
Voluntary Anti Doping Association
 seems well-suited to solve this serious problem. Whether White and the rest of the ownership team isn't ready to give such an organization any credit, doesn't want to "co-promote" with the VADA, or just doesn't want Zuffa fighters heavily tested, is unclear. What is clear is that money should not be an issue for the first major MMA league to offer all their fighters health insurance. This is the same company that offers bonuses to fighters for their creative use of Twitter. Why not offer a $5,000 bonus to all fighters who sign up with the VADA and then randomly test those who don't take advantage of the deal? There isn't any definitive proof that Zuffa is intentionally looking the other way on steroids and TRT, but the culture may be more of a thriving underground secret than any casual observer of the sport really knows about. 
UFC Fighter Krzysztof Soszynski once caused a stir by claiming up to 95 percent of MMA fighters use steroids.
If Soszynski is anywhere close to being right, Zuffa simply has to step up and stop the abuse by any means necessary. After all, they are the ones who really 
created the culture of keeping around only the most exciting and successful fighters
 and rewarding stoppages and slugfests with serious post-fight bonus money. Some MMA practitioners have come to understand that it is absolutely mandatory to put on a show to stay in the UFC. Fighters under pressure to perform often turn to a certain "edge" they feel they can gain through steroids or TRT. A whole career can hinge on a single fight in this sport, and the participants know it. Although Zuffa is not the entire sport of MMA, they do represent the gold standard. Letting different athletic commissions in different states and countries do all the work to keep fighters honest leaves gaping loopholes fighters can find in order to keep using banned substances under the radar. Zuffa has no excuse to stall any longer on developing a better independent drug testing protocol. If Dana White is so upset about the issue that he doesn't even want to talk about Alistair Overeem at a press conference, future incidents are only going to compound his aggravation. The sport itself suffers as long as the behind the scenes setup leaves room for fighters to cheat and work around the rules to achieve an unfair advantage. Overall, there have to be more serious consequences for positive tests and more preventative measures taken to make sure clean fighters aren't compromised by being put in positions to fight against opponents using performance enhancing drugs. The longer the steroid stain continues to stick to the surface of the sport, the harder it will be down the line to scrub it out completely. http://bleacherreport.com/articles/1167592-roid-cage-performance-enhancing-drugs-and-trt-staining-mmas-image