Luis Ortiz tests positive for steroids (nandralone)
Heavyweight Luis Ortiz, who overwhelmed Lateef Kayode in a blistering first-round knockout victory to win a vacant interim world title on Sept. 11 at the Hard Rock Hotel and Casino in Las Vegas, likely won't keep the belt for long. Ortiz, who goes by the nickname "King Kong," voluntarily provided a urine sample before the fight, which tested positive for the banned anabolic steroid nandrolone in the postfight drug screen, according to the Nevada State Athletic Commission's complaint against him.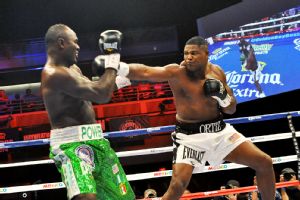 Unbeaten heavyweight Luis Ortiz claimed
an interim world title by knocking out Lateef Kayode.
"The level of [nandrolone] was above the normal level," NSAC executive director Bob Bennett told ESPN.com on Wednesday. The Nevada commission has issued Ortiz a temporary suspension, and he faces a disciplinary hearing at the panel's Oct. 27 meeting in Las Vegas. However, Ortiz is seeking a continuance to have more time to prepare for a hearing. The commission is likely to grant it, meaning the commission likely would not hear Ortiz's side of the story for another month or two. If, after the hearing, the commission is convinced that the failed test was legitimate, Ortiz faces a likely fine — up to 100 percent of his $80,000 purse (but likely a much smaller percentage) — and a one-year suspension, which would be honored throughout the United States. "He could be fined, and typically, in my five months on the job, first-time offenders for a positive test for a diuretic usually get a nine-month suspension and first-time offenders for anabolic steroids usually get 12 months, depending on mitigating circumstance," Bennett said. "The punishment could increase, but it is not likely to decrease." A 6-foot-4, 234-pound southpaw, Ortiz (22-0, 19 KOs), 35, a Cuban defector living in Miami, dropped Kayode moments into the fight with a left hand and then trapped him in a corner. Ortiz was teeing off on him with an unanswered two-handed assault of about 15 punches before referee Robert Byrd stepped in to stop the bout with five seconds left in the opening round. Ortiz won the WBA's interim title, but the organization also recognizes two other titleholders, lineal world champion Wladimir Klitschko and so-called regular titleholder Ruslan Chagaev. If Ortiz's drug test results hold up, the result of the fight would be changed to a no-decision and he would be stripped of the interim title. Ortiz was due to face Chagaev on a date to be determined in a mandatory fight, but that would be canceled. "If NSAC confirms the failed test, there will be no other path," the WBA's Gilberto Mendoza Jr. told ESPN.com. "He is no longer Chagaev's mandatory. I must add that Ortiz's team will have the right to appeal under WBA rules." Golden Boy Promotions, which promotes Ortiz, declined to comment. http://espn.go.com/boxing/story/_/id/11745451/heavyweight-luis-ortiz-tested-positive-steroid-wake-winning-interim-title