Is Steroid Use in Boxing Far Greater Than We Know?
Perhaps Floyd Mayweather knew more than he realized-before anyone realized how rampant it was.
More than a decade ago, as he was preparing for his first fight against Jose Luis Castillo, "Pretty Boy," as he was known then, leaned in to share something poignant with a boxing writer he felt comfortable enough to express in a whisper.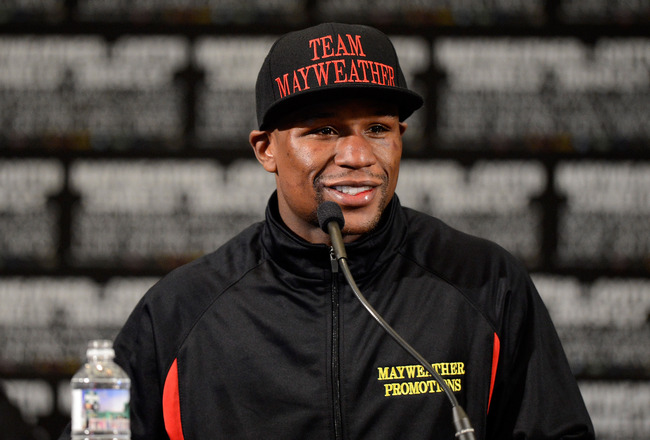 It was a dirty, little secret that prompted the writer to ask, "Floyd, why are you whispering with no one around?" Because Mayweather knew it was a view not too popular at the time.
"People talk about steroids in football, and what's going on in baseball," Mayweather said at the time, "but I'm telling you, it's going on in boxing. I know the sport. I'm in the gyms, guys are talking, guys are using this stuff. A lot of guys. It's pretty bad, a lot worse than anyone knows or realizes. It's why I'm afraid to fight certain people. These guys don't know what they're sticking into themselves, but I'll never use. I'm telling 'roids are in boxing and a lot of these guys are using. You should do a story on that!"
Those dusty notebooks piled up in the corner of the office sometimes reveal a good many things. As Mayweather did in my hastily jotted scribble from what Mayweather told me personally. It seems as if Mayweather couldn't have been more correct. First, Lamont Peterson was caught on May 8 testing positive for synthetic testosterone.
The positive test canceled his May 19 WBA junior welterweight championship rematch against Amir Khan-and now it was revealed publicly Friday that Andre Berto tested positive for the steroid norandrosterone, which cancelled his rematch with Victor Ortiz on June 23 at the Staples Center in Los Angeles.
Berto released a statement, saying: "At the present time, I cannot explain the positive drug test, which was provided as part of a voluntary anti-doping program in which I agreed to participate. I know that I have never used any steroids or other banned substances, and I am investigating all possible causes of the positive test with my attorney Howard Jacobs. I have never cheated, and all of my success has come from hard work and dedication."
The Berto news has been as much of a shock as the Peterson revelation. But it shows the Voluntary Anti-Doping Association (VADA) is doing a fantastic job in weeding out alleged users.
And to think, boxing has Floyd Mayweather to thank for this."It's going on," said a very prominent trainer who asked that his name not be used. "You have guys that know a little bit about the sport and think they can help their fighter, and they're doing their jobs by introducing these fighters to these things.
"They're so ignorant that they don't think they're going to get caught. You have trainers are that willing to risk it all. These yahoos that are in the circles of fighters aren't giving their guys the best advice. There are fighters out there that are taking it. I'm all for the testing. I'm happy Berto and Peterson got caught. Steroids are just bad as loading up gloves, in my opinion. In boxing, it's not cool, because we're talking about people's lives here."
Here's the twist: Tony Morgan, Berto's trainer, went public lambasting Peterson after the positive result.
"Very, very sad," Morgan said. "This business has enough black eyes already and we don't need any more of those. I truthfully think drugs are rampant in the sport. I think they are. I think that this new style of testing is going to really drop the hammer on a lot of people. As long as we have the VADA testing, I'm not really worried about it. Because the VADA testing is what is going to catch it."
Now, Morgan's fighter, Berto, a Victor Conte client, got nailed. Conte, who headed BALCO and did prison time in 2005 after pleading guilty to conspiracy to distribute steroids, has come out publicly on twitter to explain, "Andre has admitted that he was using additional supplements that were no(t) provided to him by me. Will all come out as a part of the process … I have recently warned several elite boxers about taking supplements I believe are not effective & possibly contaminated. Not all listen."
Apparently, they don't.
Roy Jones Jr. and Richard Hall each tested positive for the testosterone precursor androstenedione after Jones retained the light heavyweight world championship by beating Hall in Indianapolis on May 13, 2000. Jones claimed it was a faulty test as the result of him ingesting the supplement Ripped Fuel.
Fernando Vargas tested positive for the steroid stanozolol in September 2002, and Shane Mosley admitted to unknowingly taking steroids while he was Conte's client in 2003.
But what's happened with Berto and Peterson seems more brazen. It definitely opens up the speculation window wide as to whether Berto and Peterson previously used PEDs and this time maybe it was just a matter of getting caught.
Whatever is going on, it's a foolish, dim way of forwarding a career. It's a stain that never goes away, just ask a straight-shooter, for the most part, like Mosley. Since coming out publicly and admitting he used, every fight since has carried some reference of Mosley's mistake. Once labeled a 'Roidhead, it seems you're always labeled a 'Roidhead.
And it spirals back to a brief conversation with a visionary, Floyd Mayweather of all people, who predicted it would get worse and saw the infusion of PEDs in the sport growing. He saw it more than 10 years ago.
"I know people are going to laugh at me for saying this stuff, but it's going on," Mayweather said at the time. "Go to any gym with pros, and you'll see these guys. I'm telling you it's a lot worse than people realize it. You should do something about it!"
You have already, Floyd. Hopefully, more steps will be taken.
http://bleacherreport.com/articles/1188651-is-steroid-use-in-boxing-far-greater-than-we-know