GSP: 'I'm the One in the Cage, I Don't Want to Fight a Guy on Steroids'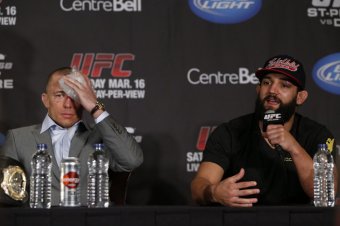 Johny Hendricks may have the power to shock the world, but when it comes to keeping his word, Georges St-Pierre is not impressed. The UFC welterweight champ came to a verbal agreement with Hendricks that both would sign up for the Voluntary Anti-Doping Association [VADA] and undergo random testing for performance-enhancing drugs before their November 16 title bout. As a measure of good faith, St-Pierre offered to take care of the hefty $16,000 bill. Initially, Hendricks agreed to the random tests, but it didn't take long before the suspicion of foul play changed his mind. During an appearance on 
The MMA Hour
, Hendricks seemed to believe that St-Pierre and VADA were in league with one another. He told Ariel Helwani during the show that he would much rather leave his fate in the hands of "Wada, the world Olympic testing." After Hendricks insisted on getting tested by WADA, St-Pierre also made anappearance on 
The MMA Hour
 and revealed to Helwani that WADA was only an "organization that makes the guidelines," not one that provides testing. What followed was a heated debate filled with acronyms and paranoia. While sitting in with reporters on Fox Sports Google Hangout, UFC president Dana White said this entire situation makes both fighters "look stupid." Why go the extra mile to get tested when there is already an athletic commission in place to handle this sort of thing? In speaking with MMAJunkie.com, St-Pierre explained that his intention was never to upset anyone. By going the extra mile, he hoped to set a good example for the sport and make a difference:
I want to be known as the guy who makes the difference. Football, hockey and every sport, baseball, should have the testing like the Olympic sports, and I think it's a new step for the sport. I didn't want to piss off anybody. I didn't want to piss off the UFC or the athletic commission, I just wanted to do something good for the sport. I never wanted to make people angry. I thought everything was going to go well and Johny was going to come and we would do it together and it would be good and would be a new thing in the sport. It will make the sport go higher, so to speak.
Despite never testing positive for performance-enhancing drugs in his MMA career, St-Pierre has been on the receiving end of plenty of disparaging remarks from his peers suspecting him of cheating. On Sportsnet 590 Radio, viaBJPenn.com, Nick Diaz accused St-Pierre of being on "plenty of steroids." BJ Penn told Kevin Iole ofYahoo! Sports that while he didn't have any proof, he believes St-Pierre uses steroids. Former welterweight contender Josh Koscheck even called for Olympic testing in aninterview with MMAJunkie.com to quell his suspicions of St-Pierre's drug use. An initial presumption is that St-Pierre is pulling out all of the stops to leave no doubt of his innocence. Perhaps he is growing tired of his peers accusing him of using performance-enhancing drugs, and he wants to permanently put all of the accusations to rest:
I just wanted to do something good for the sport to help the honest guy who works very hard, St-Pierre told MMAJunkie. [I want to] point the finger at people who cheat and make the fair fight. I didn't want to do anything negative with that, and it turns out it was, but that was not my intention. I only wanted to do something good only for the sport. I'm the one who fights in the cage; of course I care about testing. I want to have a fair fight. I don't want to fight a guy who's on steroids. I said I was going to do it, and I'm a man of my word, so I did it. Johny said he was going to do it, but he didn't do it. I don't accuse nobody [of cheating], but if you want to know why he didn't do it, you'll have to ask him.
Hendricks has wiped his hands clean of the VADA and WADA fiasco. His only focus appears to be the world title bout scheduled to take place a little over two weeks from now. St-Pierre will be looking for his ninth consecutive title defense against a man many claim to be the greatest test of his legendary career. Now probably isn't the best time to still be arguing over acronyms.