Did Pistorius Take One Life – Now in Biggest Race of His?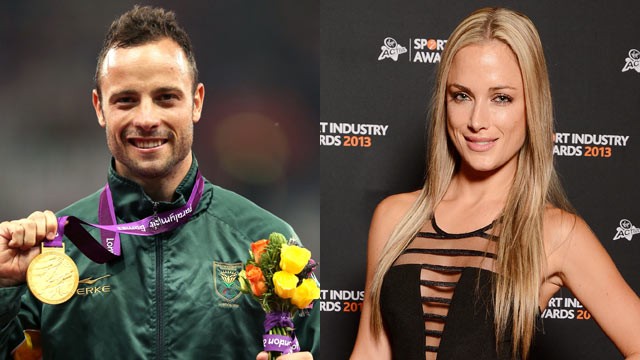 Thursday - February 14th, 2013 can be described as one of the most monumental but disturbing days in competitive sports. On that day - Valentine's Day, Oscar Pristorius allegedly murdered his girlfriend - Reeva Steenkamp in his Pretoria, South Africa home. With information gathered from several media sources, including Reuters from Johannesburg and France 24 in Paris, there is consistency with the following timeline:
Wednesday 1-Reeva Steenkamp arrives at the home of boyfriend - Oscar Pristorius around 6pm for a romantic, pre-Valentine's Day, evening. Reeva sleeps in Oscar's bed and left both her iPad as well as overnight bag on the floor; alongside the bed.
Thursday 2-Neighbors hear loud sounds of argument throughout the gated community emitting from the home of Oscar Pristorius. 3-Police arrive quickly to the scene Thursday night/early Friday morning and make the following initial observations: 3a-Reeva had been murdered by multiple shots as some connected with the structure while others unfortunately struck the body of Reeva Steenkamp. 3b-Conclude that there were no other occupants other than Oscar Pristorius inside and that there was no forcible entry into the residence. 3c-A 9 mm pistol was recovered within the home and taken for ballistics testing
Friday 4-Pristorius family members hastily make official statements to the media explicitly stating that Oscar mistook Reeva's form for a probable home intruder. Furthermore, they describe a grieving Oscar Pristorius who carries lifeless Reeva downstairs without making a telephone call for emergency assistance. 5-Prosecutors appeal to the Pretoria Magistrate's Court for denial of bail
During the weekend, local law enforcement in Pretoria was prevented from divulging any more details to the media. Nonetheless, France 24 continued to publish details that would circulate swiftly around the globe. In fact, there were allegations that Oscar quickly accessed a pair of prosthetic limbs as well as an assault weapon then initially shot Reeva Steenkamp in a common area of the residence. Somehow, she was able to barricade herself in a bathroom but an enraged Pristorius shot more rounds through the bathroom door. In total, 4 rounds struck Steenkamp, reports say, penetrating her flesh about the head, chest, abdomen, and hand.
Unexpectedly, the 9mm gun was probably not the only weapon used on Reeva that night. Police will NOT comment on news of a cricket bat that was supposedly removed from the home. With the potential to be damning evidence, the bat is said to have blood stains all over it and was sent for forensic testing. The shape of the bad is crucial since Reeva's skull is said to have been crushed by a heavy object.
6-Today - February 19, 2013, there were pretrial hearings for Oscar Pristorius while Reeva's funeral was simultaneously underway. 7-News of steroids found at the home of Oscar Pristorius with evidence of heavy drinking.  Defense attorneys are floating the concept of 'Roid Rage' as a potential avenue if the notion of 'self defense' breaks down. Given Oscar's history, this is not necessarily a bad idea.
In order to accept the prosecution's null hypothesis, and to avoid a Type 2 error, a full battery of blood tests (along with other vital statistics accounted for…) have been arranged. In doing so, the alternate Intruder theory can be excluded with only the remaining null hypothesis of pre-meditated murder to consider.
Oscar Leonard Carl Pistorius
Born on November 22nd, 1986 with defects whereby he has no fibulas in either leg which warrants double amputation (medically termed T44) below the knee. Pistorius has always sought to be exceptional despite his troubled upbringing and found a way to run races despite being outfitted with prostheses. Equipped with revolutionary technology, Oscar was able to run in some international 'able-bodied' sports. However, the lower bends of the carbon fiber 'blades' provided far more counter force than could be exerted & received by the ankles of the fastest sprinters. Despite slower starts out of the blocks, the counter forces enabled Oscar to catch up and overtake the field with little effort.
Reeva Rebecca Steenkamp
Born on August 19th, 1983 was an upcoming super-model able to master both the refined and rugged 'Outback' look. Her career transitioned from humble beginnings as a South African paralegal. Previously dating Francois Huggard, Reeva began to date Oscar Pistorius though many questioned the personality fit. Steenkamp also overcame diversity by re-learning the basics of walking after breaking her back during a horse-riding accident. Though details of the event are streaming out of African and French media sources, the public must remember that information is fluid and easily transmitted without meeting minimum standards of confirmation; deciphering fact from opinion. If claims are ultimately truthful, they will be tragically similar to events involving other athletes who've experienced psycho-social overload. http://steroidanalysis.com/2013/02/did-pistorius-take-one-life-now-in-biggest-race-of-his/