Dee Gordon: steroid use is not all about muscle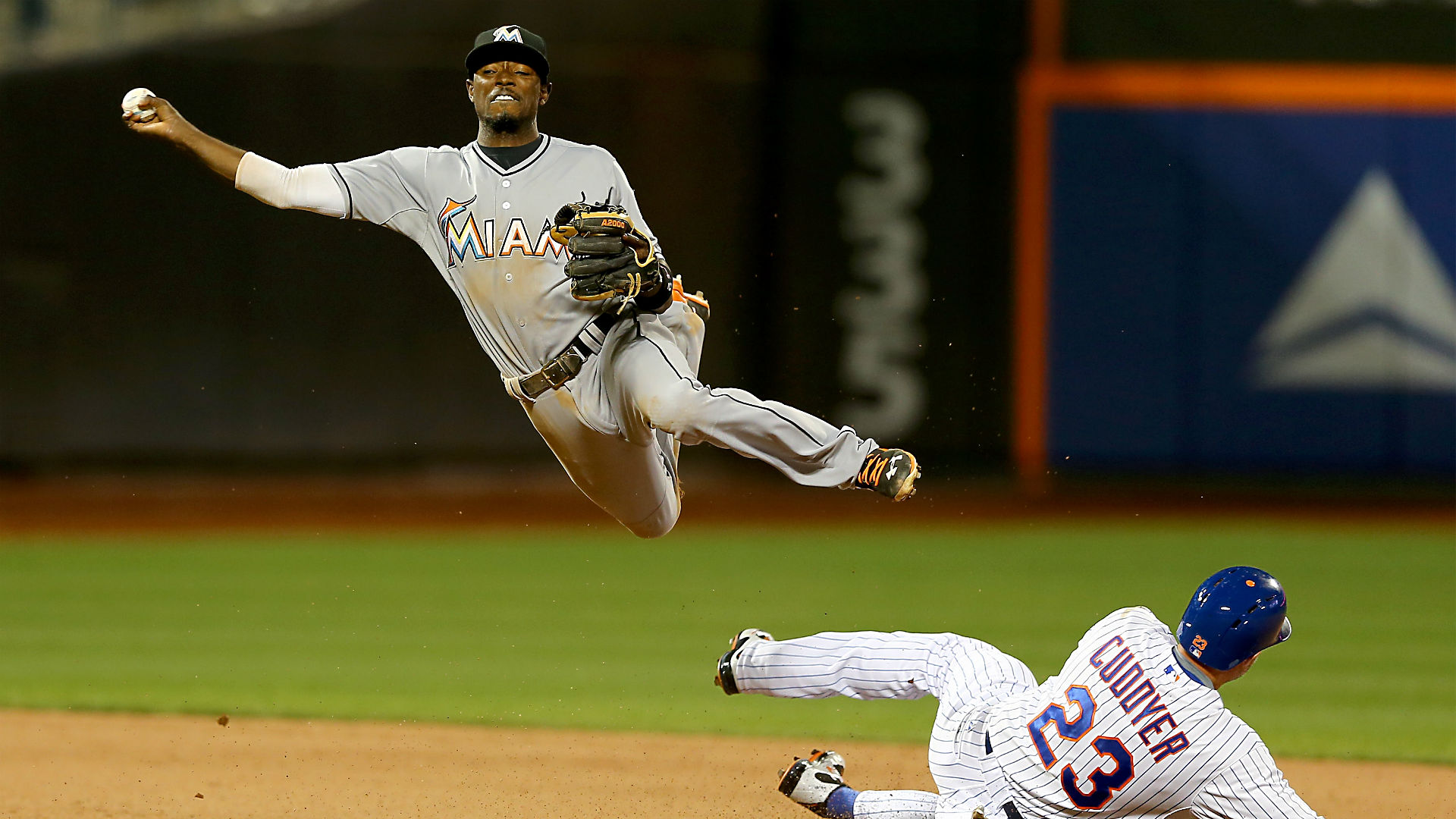 By:  NATHANIEL VINTON
A positive steroid test by Marlins second baseman Dee Gordon has underlined the commonly forgotten fact about doping: it's not all about the muscles.
Exhibit 1: Lance Armstrong and the other stick-figure men of his fraudulent Tour de France cycling teams, for whom small doses of testosterone (often delivered in drops of olive oil or transdermal patches the cyclists wore after training) were a critical recovery aid.
"Dope is not a magical boost as much as it was a way to control against declines," wrote Armstrong's teammate, Tyler Hamilton, in "The Secret Race," his 2012 tell-all. "You can recover, rebalance, and keep going at the same level."
 Now Gordon — who measures 5-11, 160 pounds — is another example of an athlete who didn't look like the stereotypical juicer. The reigning National League batting champion, whose small stature equates to a smaller strike zone, was
suspended early Friday for 80 games
after testing positive for testosterone and Clostebol, an anabolic agent developed in East Germany during a Cold War explosion of steroid derivatives.
Gordon, who in January signed a five-year $50 million contract with the Marlins, denied Friday that he "knowingly" took banned substances — an excuse that ended up more or less working for his team's hitting coach, Barry Bonds, when Bonds was caught up a decade ago in the BALCO doping scandal.
FRANCK FIFE/AFP/GETTY IMAGES
Lance Armstrong
"It looked like somebody had stuck a pump into Barry Bonds and blown him up with muscle," wrote convicted steroid dealer Kirk Radomski in "Bases Loaded," his 2009 memoir. "The fact that it was so obvious defeated the whole purpose of it — which was doing it without anybody knowing that you were juicing."
But for every musclebound slugger who made Major League Baseball notorious for its "Steroid Era" there are dozens of pitchers and utility infielders who have tested positive for anabolic steroids since the league implemented its modern drug testing program in 2004.
Only a few athletes have ever tested positive for Clostebol, a synthetic agent made to mimic natural testosterone. Among them are former Phillies infielder Freddy Galvis, who tested positive in 2012, and British shotputter Mark Edwards, who was busted in 2010.
The Daily News interviewed a former dealer of performance-enhancing drugs who called Clostebol a "weakened version of testosterone."
FOLLOW THE DAILY NEWS SPORTS ON FACEBOOK. "LIKE" US HERE.
JOHN G. MABANGLO/EPA
Barry Bonds
"When I say 'weaker' I don't mean necessarily in a negative way," the former PED dealer says. "You don't get explosiveness and strength attributes other anabolic steroids offer. Overuse does not often lead to estrogen buildup so that is a benefit to a bodybuilder."
As for testosterone, the drug is readily available for clinical purposes and increasingly as a quality-of-life enhancement advertised on television and in men's magazines. It's use in small doses was central to Lance Armstrong's success, according to testimony from more than half a dozen of his teammates interviewed by the U.S. Anti-Doping Agency.
Floyd Landis, who tested positive for testosterone after winning the 2006 Tour de France, testified that Johan Bruyneel, the director of Armstrong's U.S. Postal Service teams, told him that testosterone patches could "be worn two out of three days after hard training for eight to ten hours at night, which would be relatively free of risk of detection."
Major League Baseball doesn't release details from anti-doping laboratory tests such as the levels of banned substances in a player's sample, but the announcement of Gordon's suspension said testing detected exogenous testosterone and Clostebol, which means the lab detected synthetic substances that show their unique signature in a carbon isotope ratio, or CIR test.
"The hardest part about this is feeling that I have let down my teammates, the organization, and the fans," Gordon said in his statement. "I have been careful to avoid products that could contain something banned by MLB and the 20+ tests that I have taken and passed throughout my career prove this. I made a mistake and I accept the consequences."
http://m.nydailynews.com/sports/baseball/dee-gordon-case-shows-steroids-not-muscle-article-1.2619319