Can an Athlete With Type 1 Diabetes Make the Olympic Track Team?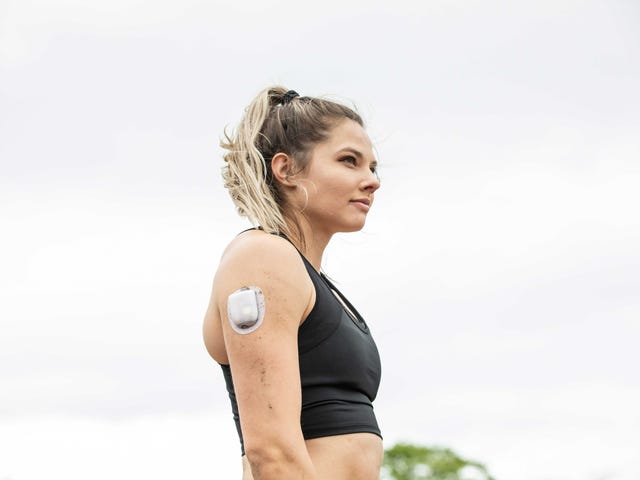 You'll want to be ready if you find yourself on the receiving end of a Kate Hall medicine ball toss.
I wasn't. During a midday early May workout, Hall recruited me to catch her throws and roll the ball back to her. I moved to the middle of the infield at Fitzpatrick Stadium in Portland, Maine. From just inside the track, Hall sprang forward and heaved the 8-pound ball. Next thing I knew, the ball landed just in front of me, bounced, and crashed into my chest. It left a red mark on my sternum that lingered for a week.
I should have known better. Hall, age 22, is the national high school record-holder in the long jump, a two-time NCAA champion in the event, and this year's national indoor titlist. Her long jump PR of 6.83 meters is best appreciated by unspooling a tape measure 22 feet, 5 inches and imagining how much of that distance you could cover after a 40-meter run-up. Hall is also an accomplished sprinter, with a 100-meter best of 11.30 and a runner-up finish at 60 meters in February's indoor nationals.
The medicine ball tosses came at the end of a workout focusing on sprintstarts; on some, she bolted from the blocks with such force that her grandfather, standing on the back of the blocks, was knocked off balance. So of course I should have braced myself when this exemplar of power sent a flying object my way.
Hall is exceptional even among her peers. After the 2018 outdoor season, she decided not to return to the University of Georgia for what would have been her senior year. She moved back to her native Maine to resume working with Chris Pribish, an athletic trainer who guided her high school career but who has otherwise never coached a world-class track athlete, and who spends much of his day working with orthopedic rehab clients.
Hall and Pribish hope that their highly individualized approach can put someone training solo, unsponsored, in Maine's less-than-ideal climate, on this year's world championships team. And they hope next year to show that Hall, who has type 1 diabetes, can be the first person with the disease known to become a U.S. track and field Olympian.
---
Growing up, Hall was used to being the quickest kid in school. That doesn't necessarily mean much in Casco, Maine, which had a population of 3,742 when Hall became a teenager. But it meant something to a natural competitor, so one day in 2007, when the 10-year-old Hall was beaten by another girl at a soccer practice race, she wanted answers. Hall's father learned the other girl had done a summer track program. He urged her to try track club the following summer.
"I was hesitant to do something new," Hall says. "I was all set with soccer and basketball. My dad said, 'Just go and try one practice. If you hate it, you don't have to come back.'" Hall sampled all of the events, excelled in the sprints and long jump, and told her father she wanted to return. By seventh grade she was competing for state titles. She stopped playing basketball in eighth grade because it interfered with indoor track, and abandoned soccer the following fall to avoid knee injuries.
Hall was obviously a natural, but that doesn't mean she came to track unprepared. She has a jumper/sprinter's version of Kenyan kids running to school. "When I was young, every time I went through a door, I would jump up and hit the doorpost," she says. "I was probably doing hundreds of jumps a day. I sort of started to train myself to develop that springiness."
In 2012, as a high school freshman, Hall set the goal of qualifying for the 2016 Olympic trials, even though her best long jump at the time was more than three feet shy of the eventual standard of 21 feet, 11 inches. In the final jump of her prep career, at the 2015 New Balance Nationals, Hall soared as she never had before. Her mark of 22 feet, 5 inches broke a 39-year-old national high school record, held by Kate McMillan, who in open competition went on to win silver at the 1976 Olympics. It was a massive improvement in personal terms—she had set her previous outdoor PR of 20 feet, 11 inches just the previous week—and an automatic qualifier for the 2016 trials.
https://www.runnersworld.com/runners-stories/a28450989/kate-hall-sprinter-type-1-diabetes/