Boxing's policy on drugs is limp compared with other sports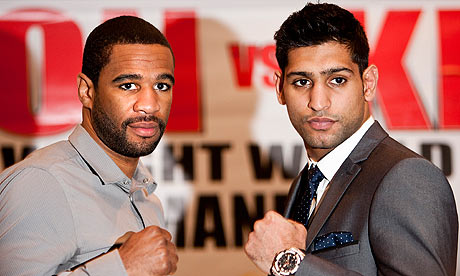 Boxing has an almost insoluble dilemma. Suspicions have been rife for the past few years that several top-flight boxers use performance-enhancing drugs (a couple have even been caught, while others have proclaimed their innocence, in and out of court), but the cancellation of a major fight costs fighters and their connections - as well as promoters and their television backers - so many millions that there is little collective will for discovery.
Outside the British Boxing Board of Control, there is limp top-down leadership, because the sport is appallingly regulated at international level, as well as in large swaths of its US financial heartland. In such a fetid environment, abuse is so much easier than in other sports.
When Floyd Mayweather Jr alleged Manny Pacquiao used drugs, he paid for his unproven claim in court in 2009, as did those members of his family and entourage who joined in the false vilification. Mayweather called for "Olympic-style testing" but the man who went to jail for domestic violence last year was hardly the saint boxing was looking for, and his plea was an empty one, in any case. As Victor Conte, the Balco guru, pointed out at the time: "Mayweather is not doing Olympic-style testing. 'Olympic' means 24-7-365. To be effective, drug testing has to be 24 hours a day, seven days a week, 365 days a year."
The use of banned substances in boxing is multi-purposed. Theyallow fighters to train harder, to recover more quickly from injury and to grow in strength a long way beyond their normal capacity. When Amir Khan, whose training regime is as punishing as any in boxing, was forced back time and again by Lamont Peterson in their fight in 2011, he was only partially satisfied when he learned later the American challenger had been using anabolic steroids.
True to boxing's script, Peterson is back in the sport after a brief punishment. Others caught in 2012, with various levels of different substances, performance-enhancing or recreational, include Antonio Tarver, Erik Morales (both now retired), Andre Berto and Julio César Chávez Jr (both still active). These, though, are the unlucky few. And their punishment is inconsequential.
As Conte says: "Boxing's testing programme is beyond a joke. It's worthless. The loopholes are so big that you could drive a Mack truck through them. Many of the people who are supposed to be regulating this don't want to know."
So, the curse lingers, and clean fighters are endangered by cheats.
http://www.guardian.co.uk/sport/2013/feb/15/lamont-peterson-steroids