Arizona Wildcats guard Allonzo Trier 'shocked' by positive PED test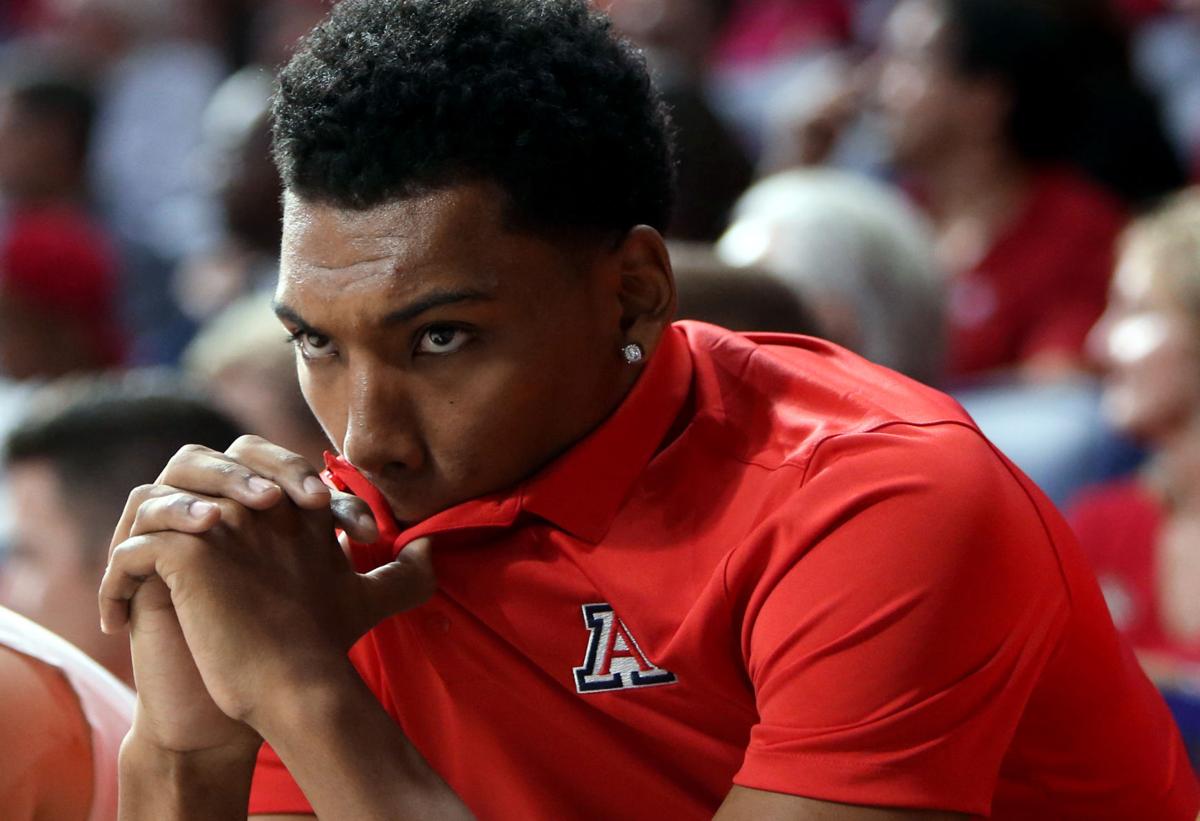 Suspended Arizona Wildcats guard Allonzo Trier said Wednesday night he was "shocked" to have tested positive for a performance-enhancing drug, and remains unsure when he will play again because the drug must be completely out of his system.
Trier was responding via a UA statement to an
ESPN.com
story citing unnamed sources that said he tested positive for a PED in September and won an appeal, but that the NCAA hasn't allowed him to play until the drug is completely out of his system.
Trier, who has not been made available for comment since September, suffered an off-court injury last offseason and said the drug was administered as part of his recovery.
"Earlier this season, I was notified that I tested positive for a trace amount of a banned performance-enhancing drug following an NCAA random test and I was shocked. I have never knowingly taken a banned substance. After finding out that I was given a banned substance by a well-intentioned, but misguided person not associated with the University after an injury, I presented this information to the NCAA. The NCAA agreed that I had no knowledge of receiving the substance and my eligibility was restored. Although I can practice and travel with the team, I am not allowed to resume playing in games until the substance completely leaves my body even at a trace amount. Unfortunately, I am unsure of when that time will be, but I hope it is soon.
"I want to thank my family, coaches, teammates, my attorney and the athletics department for their support during this difficult time. I will not have any further comment at this time. In addition, I have asked the athletics department to respect my privacy by not answering any questions or releasing any information beyond this statement."
While UA and the NCAA have declined comment on Trier since speculation first surfaced in the preseason about a positive drug test, UA coach Sean Miller has indicated public signs of frustration.
 Miller told a college basketball podcast Monday that Trier's case is a "once in a lifetime" circumstance and later told local reporters he was "ambivalent" about Trier's chances of playing this season. Trier has missed all 18 of UA's regular-season games and also did not play in the Wildcats' two exhibition games, though he has practiced with the team.
Miller said Trier was cleared by the NCAA to begin traveling for the Wildcats' Dec. 3 game with Gonzaga in Los Angeles. However, when asked if that represented progress in the case, Miller said it meant nothing.
The Star's policy is generally not to run stories with unnamed sources, so the
ESPN.com
story wasn't scheduled to be in Thursday's edition until UA responded to it on the record with Trier's statement.
UA and the NCAA had declined comment about Trier's status to the Star since speculation about a positive drug test started in the preseason. The Star has also filed two public records requests, including one in October about the results of drug testing in the Arizona athletic program. But that request was largely unanswered, with the school citing student privacy laws (the responses are attached as PDF files).
A second, related public records request from the Star to UA sent on Dec. 20 has still not been answered. Two follow-up emails to the NCAA requesting comment about Trier and the categorization of penalties have also not been answered.
A positive drug test is rare in college sports. The NCAA told the Star in October that it tested 12,928 athletes in 2015-16 and had 149 sanctioned outcomes, the net result after subtracting positive results that were cleared through a medical exception review. http://tucson.com/sports/arizonawildcats/basketball/pascoe/arizona-wildcats-guard-allonzo-trier-admits-ped-use/article_17577fd8-ddf0-11e6-b452-fb90842028ac.html