Alistair Overeem Started Losing Once He Stopped Using Steroids?
Former UFC heavyweight champion Bas Rutten is less than impressed with Alistair Overeem's UFC career and believes his 2-2 record inside the Octagon can be attributed to performance-enhancing drugs.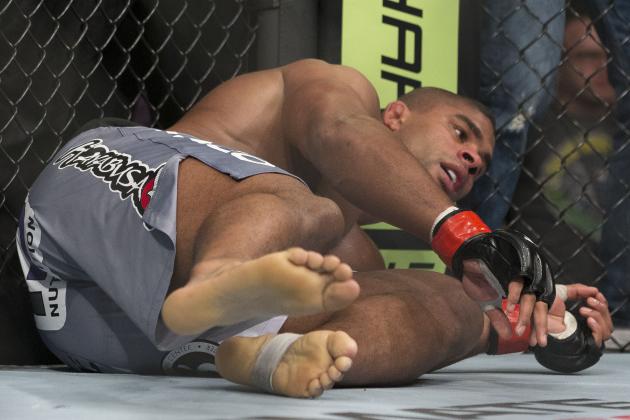 In an interview on this week's edition of 
Submission Radio
, the professional fighter-turned-color commentator blamed "The Demolition Man's" back-to-back losses to Antonio Silva and Travis Browne on anabolic steroids, or lack thereof:
He got caught on steroids, then he got tested the next time he couldn't use and he lost. His testosterone—I heard, read on the Internet, I'm just saying that it doesn't have to be true but it was out there in the news everywhere—he had a level of 160. So now Nevada says, well that means with prior usage you can't fight in Nevada anymore. And I think it maybe did something to him mentally, I don't know.
After a crushing TKO win over former heavyweight champion BrockLesnar at UFC 141 in December 2011, improving his unbeaten streak to 12 wins in a row, Overeem was set to square off with then-champ Junior dos Santos at UFC 146 in May 2012. However, the bout never came to fruition since "The Reem" failed apre-fight drug test administered by the Nevada State Athletic Commission for a testosterone to epitestosterone ratio of 14-to-1, per
MMA Junkie
. After serving a nine-month suspension for the infraction, Overeem returned to the cage at UFC 156 in February of last year, soundly dominating Silva for two rounds. However, early in the final frame, "Bigfoot" staged an epic comeback and managed to knock the former Strikeforce/K-1 titleholder out cold. At UFC Fight Night 26 in August, it was nearly an identical story against Browne, with Overeem controlling the action early before getting his lights put out with a front kick. The key difference here was that this matchup ended in the first round. Despite the setbacks, the 33-year-old returned to his winning ways at UFC 169 in February were he outclassed Frank Mir for 15 minutes with his striking on the feet and on the ground. Did PEDs play a factor in Overeem's winless 2013 campaign, or was he simply beaten by two competitors who are better than him? http://bleacherreport.com/articles/2019689-bas-rutten-alistair-overeem-started-losing-once-he-stopped-using-steroids