second baseman Freddy Galvis has been suspended for 50 games by Major League Baseball, the commissioner's office announced Tuesday afternoon. Galvis tested positive for metabolite of Clostebol, which is a performance-enhancing substance and in violation of MLB's Joint Drug Prevention and Treatment Program.
The suspension is effective immediately.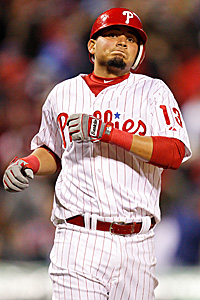 Galvis, 22, has been the Phillies' most frequent fill-in for injured Chase Utley at second base this season. Galvis is hitting .226/.254/.363 with 15 doubles, three homers, 24 RBI and 14 runs in 200 plate appearances.
Galvis has issued the following statement:
"A trace amount of a banned substance — 80 parts in a trillion — was detected in my urine sample. I am extremely disappointed in what has transpired. I cannot understand how even this tiny particle of a banned substance got into my body. I have not and never would knowingly use anything illegal to enhance my performance. I have always tried to follow the team's strength and conditioning methods, listen to the trainers, work out hard and eat right. Unfortunately, the rules are the rules and I will be suspended.
"I'd like to apologize to my all my fans, especially here in Philadelphia and back home in Venezuela, to my teammates and to the Phillies organization. I am looking forward to putting this behind me, rehabilitating my back and returning to the Phillies as soon as possible to try to help them win another World Series."
The Phillies have issued the following statement:
"The Phillies continue to believe in and endorse Major League Baseball's drug policy. We also support Freddy Galvis in his determination to put this matter behind him and we look forward to his return as a productive member of the Phillies as soon as possible."
Social tagging:
anabolic steroids
>
banned substances
>
baseball
>
cheat
>
steroids
>
testing