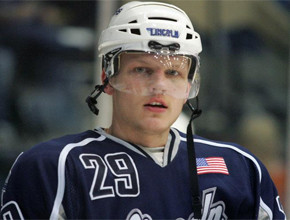 Latvian ice hockey player Ralfs Freibergs failed a drugs test at the Sochi Olympics and has been thrown out of the Games retrospectively the International Olympic Committee announced on Friday.
Freibergs, 23, was found to have taken a testosterone-based anabolic steroid after Latvia's quarter-final defeat to Canada.
Another Latvian player, Vitalijs Pavlovs, also failed a drugs test and was kicked out of the Games.
Pavlovs, 24, tested positive on February 19 for the banned substance methylhexaneamine.
Freibergs had been given the all-clear by the Latvian Olympic Committee, along with the 32 other members of their Sotchi squad, following drug tests before the Games.
But a laboratory in Helsinki, which carried out the analysis of those samples, explained that the test to detect the particular steroid had been introduced fairly recently and had not been available to all laboratories.
The IOC said it was up to the Latvian Ice Hockey Federation to take the appropriate action against the player.
Freibergs becomes the eighth athlete to fail a drugs test in Sochi, although Swedish ice hockey player Nicklas Bäckstrom was cleared of all doping accusations by the IOC disciplinary committee and allowed to hold on to his silver medal.
http://www.globalpost.com/dispatch/news/afp/140425/ice-hockey-latvian-player-guilty-taking-steroids
Social tagging:
anabolic steroids
>
banned substances
>
cheat
>
Don Hooton
>
doping
>
drugs
>
Olympics
>
steroids
>
Taylor Hooton Foundation