The secret is out – Charlie Sheen used steroids in his movie role in Major League.  In addition to improving his performance on the mound, note his personal testimony about the roid rage he experienced as well as other health effects.
This is but one more in a long string of examples that we've provided you about the negative health and psychological effects of using anabolic steroids.
Don
Here's a case of art imitating life: Charlie Sheen says he took steroids to play the role of a pitching phenom in the 1989 baseball movie "Major League."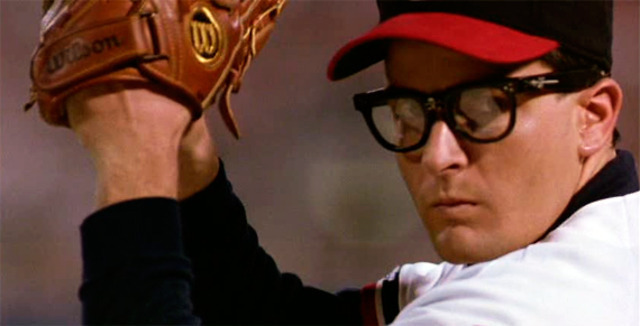 "I wanted to put a little zip on my fastball," he told Playboy magazine. "I didn't want to look like I was lily-arming it up there. I was always a hit-the-spots, low-zone pitcher. But my character, Ricky Vaughn, is a flamethrower. With steroids I went from a modest 78 mph to a decent 85, which on film can be made to look in the 90s."
He also said he had roid rage and "got injured a lot afterward. Steroids build your muscles, but they don't build your tendons or ligaments. Once you start altering your body's blueprint, things start falling apart. Some players take steroids, and two years later, after they've broken records, suddenly they have back problems, shoulder problems, arm problems. They're out of the game for good."
Charlie added that when you are using steroids "you're pissed all day long".
"About nothing," he added. "You just wake up and you're f*****g mad."
The Anger Management star continued: "But I had a trainer who was really smart. He'd been a defensive lineman in the National Football League. He knew enough guys who did steroids, and he knew enough doctors. I did steroids for only three months, and I never did them again. If there's a safe way to do steroids, we tried."
Hmmm… sounds like words that could have come from the lips of others, if only they had chosen to talk about the past.
Sheen had a rather nonchalant response when asked whether steroids had ruined the game.
 Back in the 1920s everyone was allowed one spitball pitcher. Why not have one guy on each team who takes steroids? Then it's even. People who are critical of steroids usually say the same thing: "Oh, it sends a bad message to the kids." How about the parents worry about that? How about parents become more heroic and send the right message at home before the kid gets to the ballpark?
 Sheen, who also starred in "Eight Men Out," played baseball as a teenager and considered pursuing it further. But when he saw how much money best friend Chris Penn made for doing the movie "Footloose," he chose acting instead. "It was about how I could get money so I could impress the girls and feel like I mattered."
Social tagging:
anabolic steroids
>
banned substances
>
baseball
>
cheat
>
roid rage
>
steroids