TUCSON, Ariz. (October 5, 2017) – The non-profit Consumer Wellness Center has completed testing of eight popular bone broth and bone broth protein products to determine the possible presence of chemical pesticides, pharmaceuticals, industrial chemicals, toxicological chemicals and food additive chemicals.
No companies paid the CWC to be included or excluded from these tests. All products were purchased from Amazon.com in the year 2017. Lot numbers of each product tested are included in the full results. No one involved in this testing has any financial stake in the success or failure of any bone broth product.
Tests were conducted by CWClabs.com, an ISO-accredited analytical laboratory headed by Mike Adams, author of Food Forensics. Adams is a published science author whose papers have appeared in the LC/GC science journal and the Natural Science Journal. Adams is noted for co-developing a pioneering LC-MS-TOF method for quantitation of cannabinoids in hemp extracts. He's also an inventor with two patents approved by the U.S. patent office; one patent describes an invention for the removal of radioactive cesium isotopes from the human body following nuclear events. Another patent describes an invention for removing toxic heavy metals from the digestive tract through the use of ion exchange technology.
As a pioneer in forensic food science, Adams has also spearheaded science warnings over lead in rice protein products and zeolites "detox" supplements. Adams does not sell bone broth products and has no financial conflicts of interest with the bone broth product industry.
Chemical analytes were confirmed using five different scientific analysis methods. Those methods, encompassed in LC-MS-TOF analysis, include accurate mass, retention time, isotopic ratios, isotopic spacing and ion fragmentation "fingerprint" analysis. Adams explains the science behind the analysis in a one-hour press release video to be posted at ConsumerWellness.org.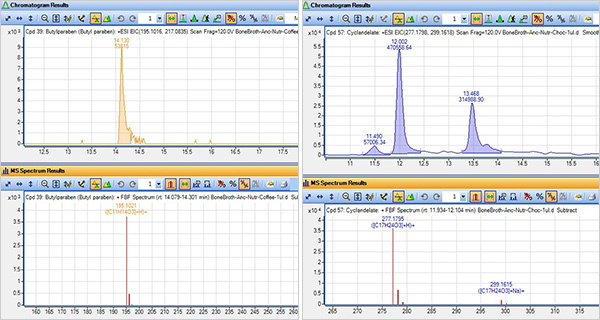 A summary of the findings is offered below, but full details of the results are being released exclusively through Good Gopher Mail, a free online email system developed by Adams to bypass scientific censorship of Google, Facebook and other internet gatekeepers that routinely censor science conducted in the public interest. Users may sign up for new Good Gopher Mail accounts at GoodGopher.com.
Bone broth product brands tested
Ancient Nutrition
Jarrow Formulas
Sports Research
PrecisionNaturals
Left Coast
LonoLife
Some of the things found in bone broth products
(Note: Not all chemicals were found in all products. This is an aggregate summary. For detailed results, see the full announcement via Good Gopher Mail.)
Antibiotics and Antimicrobials
Multiple Insecticides, including an organophosphate chemical
Multiple prescription drugs
Parabens
Steroids
Selected highlights of what the lab tests found
anabolic steroids
>
banned substances
>
bodybuilding
>
Don Hooton
>
drugs
>
health food store
>
steroids
>
supplements
>
Taylor Hooton Foundation